Maison Martin Margiela & Michael Stipe
fall/winter 2009/10

Historic music technology as contemporary fashion piece
In December 2009, the Belgian designer Martin Margiela presents a silver microcassette at the Maison Martin Margiela, created by the musician (R.E.M), film producer and photographer Michael Stipe, which follows the idea of remembrance such as Margiela has show in his new spring/summer 2010 collection in October this year.
The multi-faceted artist Michael Stipe reflects on the "obsolete technology of modern times: how fast it evolves, devices that once were pioneering and innovative quickly becoming outmoded and archaic".
Video: In April 2008, Michael Stripe talks about the changes in music business on the British TV channel ITN. You can see him with R.E.M on stage during an 'iTunes Live from London'-gig.
The post-it idea - to remember something or somebody - is running like a thread through the current work of Martin Margiela; from the design of the Martin Margiela spring/summer 2010 pieces, over the catwalk scenery in October 2009, to Margiela's book 'Maison Martin Margiela' (Rizzoli, released October 2009) which shows what inspires him and what's his contribution to our fashion culture through the years. The art/design works make visible that our consciousness is made of the moments, the days and years that are gone.

In December 2009, the British musician, film producer and photographer Michael Stipe has created a limited edition of 199 artist-signed pieces showing a silver microcassette for Maison Martin Margiela. Michael Stipe's silver sculpture on a black ribbon (resembling the tape) can be worn as necklace, bracelet, or as a ring bonded around a finger.
"The microcassette can not be defined as either a piece of jewelry or an art object. It's both and neither at the same time. It can be worn or displayed in any way the wearer & owner desires," says Maison Martin Margiela in the press statement.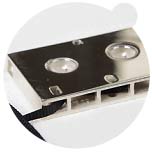 fig.: Michael Stipe pour Maison Martin Margiela '925 sterling silver microcassette' in a handmade notebook. The limited edition (199 pieces) will be exclusively sold in the Maison Martin Margiela stores worldwide and in a selection of partnering shops maisonmartinmargiela.com.
Michael Stipe is commonly best known for being the singer of R.E.M. Not so well known is that he has produced over 20 films, including the Oscar nominated Being John Malkovich, American Movie, Everyday People, and Velvet Goldmine.
Another of his creative fields for expression is photography. Already his first photo book 'Two Times Intro: On the Road with Patti Smith' (1998) was in great demand. In 2007, Michael Stipe ran a daily year long digital photo experiment online www.futurepicenter.com.
Since 2005 he is working on sculpture. For Christmas 2008, he collaborated with Visionaire and Lacoste.
This year, the Christmas 2009 sculpture comes in form of the sterling silver microcassette in collaboration with Maison Martin Margiela.

Source: Original article with images and video on http://www.fashionoffice.org/music/2009/martinmargiela12-2009.htm.


more fashion.at/mobile>
News from
September - October 2009
July - August 2009
May - July 2009
April - May 2009
Jan - March 2009
October - December 2008