Media information, Nov 2009
FOR IMMEDIATE RELEASE

40% of Fashionoffice's main domain traffic comes from Pakistan

New statistics about Fashionoffice's traffic show that in October 2009 most of the fashion.at-users (approximately 40%) come from Pakistan. (Fashion.at and Fashionoffice.org are directed to the same webspace.) Compared to the data from Sept 2009 (circa 40% from Germany and Austria), is this one of the most significant changes in the statistics.
The opening of the academic research program
Caused by the last years extended research investment into qualitative & quantitative studies about effects of online media on trends and the continuing significant - sometimes alarming - results of third-party statistic programs, the NPO & NGO Fashionoffice.org has opened its academic research program for supporting partners in October 2009.
Reliability of the data: Fashionoffice's technological premises are common practise
From the start (early 2006) and through the years of monitoring traffic and its effects on rankings in search engines by using measurements of third-parties (Google, MSN, Alexa…), Fashionoffice has checked constantly together with official authorities for internet security and administration the reliability of the data delivered by the server of Fashionoffice.org. The significant expansion of user traffic from Pakistan on the domain fashion.at was reported as suspected domain abuse on 30 October 2009 to Globat.com (Hosting Provider), Nic.at (Austrian Registry), and CERT.at (Computer Emergency Response Team Austria). On 3rd Nov, the Austrian CERT has affirmed that the technical premises for the measurements are reliable. The domain fashion.at is free of abuse. CERT mentioned some reasons for the domain's popularity boom in Pakistan.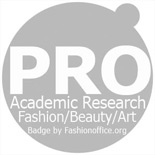 Fig.: Supporting partners are exclusively allowed to use the badge 'PRO Academic Research' as a sign of being partner of independent academic research. The special campaign will raise awareness for the importance of research in fashion, beauty, and culture.
Fashionoffice's research output is published as journalistic work
Fashionoffice was founded by media and fashion scientists in 1995. The research focuses on socio-cultural themes in fashion and media by monitoring global aesthetic norms and symbols in their common versus their differentiating aspects and potentials beyond national and cultural borders.
Fashionoffice's main output of the research is published as journalistic work on Fashionoffice.org (activities of the NPO/NGO):
monitoring global trends in fashion, beauty, and culture
pro-active search and presentation of young talents in art and design
qualitative & quantitative studies about effects of media, especially online media, on trends
(Read the latest results of the media study The 'Memorized-Data'-hypothesis.)

Get more information about the magazine's history and its founders on sawetz.com.
Please don't hesitate to contact us press@fashionoffice.org or visit fashionoffice.org/press.

Source: Original article with image on http://www.fashionoffice.org/press/2009/mediainfo11-2009.htm.


more fashion.at/mobile>
News from
September - October 2009
July - August 2009
May - July 2009
April - May 2009
Jan - March 2009
October - December 2008