MEN STYLE
fall/winter 2009/10
fashion by Dirk Bikkembergs, p2, Carl F. Bucherer, Humanic/shoemanic.com, Tumi
beauty by Paul Mitchell, John Varvatos
music by Muse, Apple iPod nano
Men, music, fashion
"...They will not force us,
They will stop degrading us,
They will not control us,
We will be victorious
...
...Rise up and take the power back..."

sings Matthew Bellamy from the British alternative rock band Muse in the song 'Uprising' from the new album 'The Resistance'. On myspace.com/muse, the band's newest song - writer Matthew Bellamy was inspired by his girlfriend, 'Undisclosed Desires' (released Nov 2009) can be downloaded on iTunes. The band is on tour now: 20 Nov Munich, followed by Bologna, Lyon, Barcelona, San Francisco, Seoul, Tokyo, Sydney... to name a few.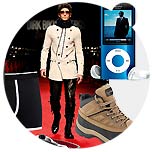 fig.: original - from above (all pieces are from the collections 2009)
Belgian, in Milan headquartered designer Dirk Bikkembergs addresses his Sport Couture FW9/10 to a man that has the spirit of an athlete. The pieces are designed for men who "... do not rest on their laurels before they will have won all sports cups within their reach. And until then, they will heat up any season in any continent they set foot on."

You can decide if you are extending Dirk Bikkembergs' idea of the athlete to your own area of operation; as long as you succeed with a sportive mind.

The man on the photo from Dirk Bikkembergs' FW 2009/10 catwalk show in Milan on 19 January 2009 is dressed in a natural colored leather jacket and black leather trousers with lace boots. He wears Dirk Bikkembergs sunglasses.
In September 2009, Apple introduced the new iPod nano. The ultra thin designed music player has a built-in video camera, mic and speaker. It also features a built-in FM radio with live pause and iTunes Tagging, as well as a built-in pedometer that tracks your steps; you can use it to gain your fitness goals.
Dirk Bikkembergs' leather jacket fits perfectly to the Frank Walker Boot, seen at www.shoemanic.com.
At the Baselworld 2009, the Swiss watch brand Carl F. Bucherer presented for the first time the Patravi EvoTec DayDate with the company's newest development: the CFB A1000 automatic caliber that provides a new structured rotor and self-winding system gear train for optimal use of the energy. The motor spring stores energy for approximately 55 hours of power reserve.

The Austrian underwear label p2 introduces for fall/winter the pants 'Modern Man' with the title "Men's Secret", followed by the words "Sure, men just know everything much better".
US label Paul Mitchell has a special series of shampoos, conditioner, shave gel etc. which refresh with tea tree oil, peppermint and lavender.
The yellow/orange backpack from the Sundance Collection Folsom by Tumi is made of cotton and leather. The design is a synthesis of the traditional backpack, reduced lines and bright colors.
US designer John Varvatos' Rock Volume One debuts this fall. It is the first of a limited edition series all inspired by music. Perfumer Rodrigo Flores-Roux of Givaudan has created an intricate blend of rose absolute and coffee beans. "Like a great song, the right scent can also trigger a secret memory." says Varvatos. "Rock Volume One plays on the emotions and, like a classic melody, it only gets better with time."


Source: Original article with images and video on http://www.fashionoffice.org/collections/2009/menstyle11-2009.htm.


more fashion.at/mobile>
News from
September - October 2009
July - August 2009
May - July 2009
April - May 2009
Jan - March 2009
October - December 2008