MOUNTAIN STYLE
spring/summer 2010
fall/winter 2010/11
beauty by Davidoff
fashion by Museum, Carrera, Intimissimi
The world of men
"Adventures can not be controlled" Ewan McGregor
In December 2009, the fashion industry is looking forward to the next fall/winter 2010/11 collections while most of us are awaiting what comes in spring/summer 2010. At this time, designers worldwide are working on the collections FW10/11 to show them on the catwalks from January to March 2010 in London, Paris, New York, Milan... .

Some of the new FW trends - especially for sports- and men's fashion are already published by international labels.

Probably men are the first who are 'outfitted', because they are attributed constantly as controlled 'uncontrollable'; as long as they have their football and motorcycle. It seems as if men are not unhappy about the gained situation.
The keywords for men's fashion 2010 are: freedom, adventure, vision of green oasis, easy style of living.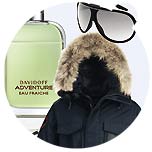 fig. original clockwise beginning with...
'Adventure' by Davidoff premiered in early 2008 with actor Ewan McGregor as the face for the fragrance. The 'Adventure'-advertising spot shows the excited motorcyclist on a tour in the green mountains. In February 2010, Davidoff will launch the new version 'Adventure Eau Fraîche'.
The fragrance is capturing the freshness of the wild nature and its green scents. The flacon is - very male - inspired by a flask, a bottle which contains normally whiskey or other high percentage alcohol.
Video: The video shows Ewan McGregor in a talk show speaking about his perfume advertising; posted on 18 May 2009.
In 2004, Ewan McGregor traveled with his motorbike around the half world. The travel-movie log is published under the title 'The Long Way Round' online. Since 2008, actor Ewan McGregor is the face of Adventure by Davidoff. The 'Adventure'-advertising spot shows the passionate motorcyclist on a tour in the green mountains.
'C-ICE' sunglasses in vintage urban-look for winter sports enthusiasts by Carrera Sport, spring/summer 2010. The glasses protect from extreme weather conditions of the glaciers. "This new model is dedicated to the total sports-lover. Designed for freedom of movement..." describes Carrera the design inspiration. "
Men's jacket in dark blue by the Italian brand 'Museum', FW 2010/11. The jacket has the elegant urban sport style that is detected by trend studios from different continents for the next seasons such as the Bangkok based Thailand Institute of Fashion Research (inFASH) that names 'activation, movement and transition' as a trend for FW2010/11 or the Association of German Fashion and Textile Designers (VDMD) that foresees an urban chic made of a new styled sportswear for summer 2011.
Men's boxer shorts in pop-art style by Intimissimi, spring/summer 2010. One of the most important trends in men's underwear is inspired by the football world cup 2010. For the ones who still have enough flag-inspired shorts from the last European Cup, the designers have created witty pop-art prints in bold colors.

Source: Original article with video and images on http://www.beautyme.com/fragrance/2009/mountainstyle12-2009.htm.


more fashion.at/mobile>
News from
November - December 2009
September - October 2009
July - August 2009
May - July 2009
April - May 2009
Jan - March 2009
October - December 2008