N.oor
winter 2009/10
Jewellery design inspired by Middle Eastern heritage
In December 2009, the label N.oor by Lebanese jewellery designer Noor Fares premiered with a collection that stages universal love and happiness symbols from different cultures and times as modern sculptures for the hands and neck. Noor Fares' creations are strongly inspired by her Middle Eastern heritage and architects like Frank Gehry or Zaha Hadid. Some pieces of the collection have a small secret protective eye inside; the eye is an Eastern symbol of good luck.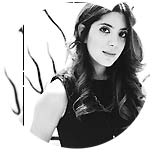 fig.: Portrait Noor Fares.

Probably she wears her jewellery often, because Noor Fares is a lucky one - her designs will be stocked from January 2010 on in London at Harrods and in Los Angeles at Beckley, Switch and H. Lorenzo.
"Many of my ideas and inspiration come from my Middle Eastern background, but also from my travels, my studies, and the little things I love. I am very much inspired by the work of my favourite artists and architects, for example the futuristic sculptural quality of Zaha Hadid's work inspired my black ebony and gold cuff, whilst the symbolism of Francesco Clemente's work with his reference to hands and eyes reminds me of the lucky charms and symbols of my heritage which can be found in all of my jewellery," says the international educated (Paris, London, Beirut...) world traveler Noor Fares.
The jewellery designer has finished her studies in History of Art at the Tufts University in Boston and graduated in Fashion PR and Journalism at Central Saint Martins and The London College of Fashion. Noor Fares has diplomas in Jewellery Design and Diamond Grading, and is currently finishing a degree at the Gemological Institute of America in London (GIA), completing a course in Coloured Stones.
fig. original: The bracelet from the 'Touche du Bois' range is made of ebony (wood for luck), diamonds, black diamonds, coloured sapphires, tourmalines, etc.
Noor Fares presents two other ranges: 'Windows of Love' features a figurative motif taken from ancient Byzantine window designs, and the 'Happiness' collection that is inspired by the Chinese symbol of good luck and happiness.

Source: Original article with images on http://www.fashionoffice.org/design/2009/noor12-2009.htm.


more fashion.at/mobile>
News from
November - December 2009
September - October 2009
July - August 2009
May - July 2009
April - May 2009
Jan - March 2009
October - December 2008