KARIJN KAKEBEEKE
Winner of the 2009 BMW - Paris Photo Prize for Contemporary Photography
The moment that something was different
In November 2009, Amsterdam and Berlin based photographer Karijn Kakabeeke (born in 1974) was awarded with this year's BMW Paris Photo Prize for Contemporary Photography for her photojournalistic picture 'Khadija's Dream' which records an early moment in 2006 when Khadija first played with a football: the Afghan woman now belongs to the first female team in her country.
BMW's sixth edition of the photo prize at the Paris Photo 2009 exhibition (19 – 22 Nov 2009 at the Carrousel du Louvre) addressed artists that work on the theme "When was the last time you experienced something different for the first time?".
Paris Photo was founded in 1997 by Rik Gadella, a Dutch publisher and soon became one of the most important photography fairs worldwide. 1999, the first special focus was 'Fashion and Photography'. Since 2001 the exhibition presents geographical themes like Germany, The Netherlands (2002), Mexico (2003) etc. In 2002, Paris Photo was taken over by Reed Expositions France. In 2009, the leading theme was 'All eyes on the Arab and Iranian scene!'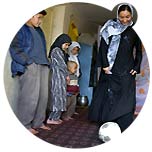 fig.: 'Khadija's Dream' (2006) by Karijn Kakebeeke; (C) Karijn Kakebeeke, Courtesy of The Empty Quarter, Dubaï. Karijn Kakebeeke studied Cultural Anthropology at the University of Amsterdam and Photojournalism at the London College of Printing. She has published editorial work in Marie Claire, The Observer, Elle... to name a few www.karijnkakebeeke.com.
"This image by Karijn Kakebeeke offers a glimmer of hope for a future in which it has become possible, in a country like Afghanistan, to establish a female football league, and where women are starting to gain a few more basic rights. The prize-winning image shows a glimpse of happiness. Kakerbeeke's genre scene convinced the jury owing to the controversial nature of the topic chosen and its relevance to the given theme." says jury member Matthias Harder, curator at the Helmut Newton Foundation in Berlin.


Source: Original article with image on http://www.fashionoffice.org/foto/2009/parisphoto11-2009.htm.


more fashion.at/mobile>
News from
September - October 2009
July - August 2009
May - July 2009
April - May 2009
Jan - March 2009
October - December 2008