Paul LaFontaine
spring/summer 2010


72 hours man!

Designer Paul La Fontaine has presented his re-launched label Paul LaFontaine with the spring/summer 2010 men's wear collection in global, international style in July 2009 in New York. The pieces of elegant tailored jackets, pullovers, shirts, and suits, as well as comfortable sportswear with motorsports touch, sea-navigator jackets, and short trousers - probably inspired by surfer's wear - are following Paul La Fontaine's '72 Hours' concept for the modern traveler who packs his luggage for anywhere, any occasion.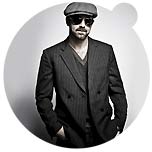 fig.: Paul LaFontaine men's wear spring/summer 2010
Australian born, now in Hong Kong based Paul La Fontaine has launched his label first in 2002. In late 2005, he began with the design direction of Max Azira in New York.

Question: Paul La Fontaine, you have worked many years in Italy on the side of John Richmond, in New York as design director of Max Azira, in Paris, and now you are based in Hong Kong. Would you say that all these cities have a special, differentiating style that is reflected in fashion?
Paul La Fontaine: Well yes, I would definitely say living in all has given me a special perspective, as opposed to just visiting them all, especially NY and Milan, Paris to a lesser degree. New York is quite clean but not really styled, Milan and most Italy on the other hand is all about style (attention to detail, beautiful fabrics, the right accessories, etc.). Paris is somewhere in between for menswear but with a strong street influence on contemporary fashion. They are also going through a resurgence of influential brands from the 60s, 70s, and 80s as well. Hong Kong, is different again and follows Japan and Europe, it's certainly more trendy than USA and more about total look than anything else.
Question: What is the most significant French style in your spring 2009 collection? The elegant tailored lines of your suits remember 70ies YSL; is this intended?
Paul La Fontaine: That's a nice comparison but not intended, but as I mentioned above fashion from 70s and 80s are my earliest influences; YSL, Gucci, then Gaultier, and Thierry Mugler. I'd say my look is more understated, but the lines are similar, quite sharp.
Take the navy blue story which is very French and same time far removed from what's considered Nautical (as I don't like nautical), the accents of French royal blue and fine stripes with white smoking jacket give it a more colourful and chic edge, while the rinse jeans bring it back to the street.
Question: What's Italian in your fashion? Are these the leisure jackets?
Paul La Fontaine: Most certainly, adapting the colonial sport jackets and field jacket as the Italians do in a contemporary way, while the word "leisure" is very American, the jackets are edgy yet still relaxed, softly constructed in dense cottons and sateens, yet with military or mariner detailing. Relaxed yet sophisticated.
I think another Italian focus is in the details. A few examples would be the attention to stitching, choice buttons, compact fabrics with special finishing, more tactile as guys like better fabrics and look for detail. My cut is also certainly more Italian, it's evolved from where I was in 2002 when I first had the line but still sexy and sharp. Italians present a collection of many innovative ideas in a cohesive manner that seems effortless. I love that but sometimes it can get too fussy and elaborate. American fashion, although important, can be contrived and somewhat predictable, yet I'm attracted to clean lines and looks. I'd like to think I've been influenced by both and have developed what I can only describe as an international global style.
Question: You have presented the collection in July in New York. Why have you chosen this city for your re-launch of the men's collection?
Paul La Fontaine: A few factors led to me back to New York. The first being, that it's were our North American distributor is based. The US market offers a lot of opportunity and I feel that what I'm doing is really missing in menswear in the States. Based on the feedback from the first season we feel like we're on the right track.
Question: Hong Kong is your new base. What inspires you on this city? What makes Hong Kong worthy to live?
Paul La Fontaine: Hong Kong is alive like NY, it's multi-cultural and the shopping is great. I would say most certainly the architecture inspires me, CHINESE ARE BECOMING MORE AND MORE EUROPEAN INFLUENCED and I'm inspired by the desire to be fashionable, constantly. I also feel that it's the doorway to ASIA. This is exciting for me to be near so many cultures so close together and growing so fast. Geographically it helps to as it's in middle of the 2 countries I need to be the most, USA and ITALY.


Source: Original article with images on http://www.fashionoffice.org/collections/2009/paullafontaine11-2009.htm.


more fashion.at/mobile>
News from
July - August 2009
May - July 2009
April - May 2009
Jan - March 2009
October - December 2008