PIERRE LANG & RED CROSS
fall/winter 2009/10


Glittering red crystal cross supports humanity
In September 2009, the jewellery brand Pierre Lang with own production plants in Vienna and Ireland announced the collaboration with the Austrian Red Cross on occasion of the 150th anniversary of the international known humanitarian organisation. Pierre Lang's designers have created a jewellery set consisting of a rhodium-plated cross pendant with glittering red crystals and two ribbons in coral and cherry red for a charity; the family-owned company Pierre Lang will donate 3 Euros from the sale of each cross necklace to the Red Cross.
After the battle of Solferino during the Austro-Sardinian War in 1859, the Swiss business man Henry Dunant created the sign of humanity: the red cross. The symbol is influenced by the reversed colors of the flag of the traditionally neutral Switzerland. Dunant's Red Cross becomes from that time on the sign for a neutral nursing organisation that took care for all wounded in armed conflicts. Today, the Red Cross works in over 186 countries of the world and promotes humanity, supports local health care projects, helps to recover from natural disasters etc.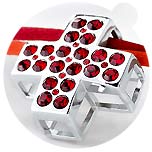 fig.: '150 years of Red Cross' by Pierre Lang Charity fall/winter 2009/10. The piece is available to purchase from Pierre Lang, throughout Europe, from August 2009 until the end of February 2010 www.pierre-lang.com.

Source: Original article with image on http://www.fashionoffice.org/collections/2009/pierrelang10-2009.htm.


more fashion.at/mobile>
News from
July - August 2009
May - July 2009
April - May 2009
Jan - March 2009
October - December 2008