Queen by Queen Latifah
fall 2009

"I am at home on the racetrack; I love driving. I'm a Mustang girl."
On 16 October 2009, the video for the song 'Fast Car', featuring Missy Elliott, from the new Queen Latifah album 'Persona' premiered. It shows the dynamic side of the US musician, actress and producer Grammy Award winner and Academy Award nominee Queen Latifah. In the same month, Queen Latifah's first fragrance - an elegant oriental scent - started the international roll-out at Macy's in New York. Queen Latifah exercises that the choice of who you are is yours.
Video: The track 'Fast Car' from the album 'Persona' (album release in August 2009) is featuring Missy Elliott; directed by Juwan Lee. The video premiered on 16 October 2009. Queen Latifah is driving in the video a Ford Mustang. At ETonline, Latifah says in a video-interview: "I am at home on the racetrack; I love driving. I'm a Mustang girl."
Queen Latifah represents the modern, multi-faceted woman perfectly: she is a rapper who entered the film and TV business, works on beauty collections like for Covergirl, or perfumery products for Parlux, a company that holds already licenses for fragrances from Rihanna, Jessica Simpson, Kanye West, Paris Hilton, etc.
On her website, Queen Latifah appears for the 'Persona' album as a 'femme fatale' in shark-grey shining pant suit, in a glossy midnight blue red-carpet gown for the 'covergirl'-persona, as a 'domestic diva', 'rock star'... In November 2009, Queen Latifah is on tour with her new album 'Persona'. Each song represents another person - and each of them reflects another aspect of Queen Latifah.
For the oriental fragrance with a golden glow, she has selected the elegant classic persona. The heart warming scent is packed in a flacon showing a heart that is 'pumping' out of the ruby red bottle. The dimensional heart on the bottle stands for Latifah's message of beauty from within: "Beauty really does start on the inside. It's like a state of mind, a state of love if you will."
The description of the fragrance sends you on a warm, intoxicating world-tour: aged Tequila, Italian Bergamot, Mediterranean Mandarin, Cognac, Moroccan Coriander, Indonesian Patchouli, Egyptian Incense, and - sexy Musk.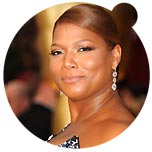 fig.: Queen Latifah arrives at the 81st Annual Academy Awards held at The Kodak Theatre on 22 February 2009 in Hollywood, California. Photo by Kevin Mazur/WireImage; (C) 2009 Kevin Mazur.

In 1991, she appeared for the first time in a movie; in 'Jungle Fever', directed by Spike Lee, she played a small role beside Anthony Quinn and Wesley Snipes. Productions such as 'Bringing Down the House' (2003) with Steve Martin followed. In 2010, new movies with the US artist will be released: in the romantic story 'Just Wright' she plays the leading role of Leslie Wright, co-star is Pam Grier, and 'Valentine's Day', a movie about couples and singles in Los Angeles and their stress caused by Valentine's Day, with Jessica Biel, Jennifer Garner, Jessica Alba, Anne Hathaway, Julia Roberts,... to name a few.
Source: Original article with images and video on http://www.beautyme.com/fragrance/2009/queenlatifah10-2009.htm.


more fashion.at/mobile>
News from
July - August 2009
May - July 2009
April - May 2009
Jan - March 2009
October - December 2008