HONET for RUBY
2009
How to discourage other road users
In 2009, the French label for moving accessories 'Les Ateliers Ruby' presented in its special 'programmes courts' the collaborative helmet showing other road users' discouraging graphics by the Parisian graffiti artist Honet. The founder of Les Ateliers Ruby, Jerôme Coste whose collaborations with celebrities such as Karl Lagerfeld or Martin Margiela have already opened the helmet surface for fashionable expressions, has selected the artist for his special style that generates from popular art and graphic novels a story from and for the street. Honet, who has made illustrations for Prada (FW2006/7), produces strange scenes with macabre details and characters between terror and melancholy.
Honet's Ruby helmet shows a schizophrenic character which he has named 'Pale Rider VS Surfin' Zombie'. "The Surfin' Zombie can be seen from the back and looks like a spectre discouraging anyone who might be thinking of overtaking," describes Les Ateliers Ruby is the helmet-graffiti.
The release of the limited edition was accompanied by a special composed music by Boombass (aka Hubert Blanc-Francard who is one of the French music duo 'Cassius') that leads you to an imaginary trip. You can listen to the music on myspace.com/boombass.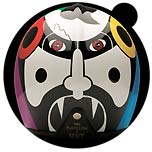 fig.: 'Pale Rider VS Surfin' Zombie', helmet for 'Ruby', Les Ateliers Ruby 2009. Honet's website aventuresextraordinaires.fr invites to meet the artist by following his extraordinary adventures.

Source: Original article with image on http://www.fashionoffice.org/motor/2009/rubyhonet12-2009.htm.


more fashion.at/mobile>
News from
September - October 2009
July - August 2009
May - July 2009
April - May 2009
Jan - March 2009
October - December 2008