STINE GOYA
spring/summer 2010


A designer on the decadence of untroubled lightness
On 6 August 2009, Danish designer Stine Goya presented the new spring/summer 2010 collection 'bulles d'été' (translated 'bubbles of spring') in a swimming hall during the Copenhagen Fashion Week in front of prominent guests like Danish Crown Princess Mary and international professionals such as style director for US Elle, Kate Lanphear. The Danish popstar Medina closed the show with the song 'Kun for mig'.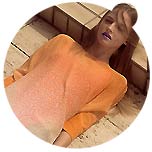 fig.: Dress in 'Sugar' print by Stine Goya spring/summer 2010
'Sugar' is the name for one of the leading patterns in this collection of dresses in floating materials. Stine Goya who graduated in 2005 from Central St. Martins in fashion design with print, creates a lightness of water and air that she entitles 'bubbles of spring'. The decadence of these bubbles come from their untroubled lightness.

Stine Goya references "...the latent atmosphere prevalent among the youth of the upper class among the leisurely coastal retreats in The Hamptons. Beach promenades, frivolous enjoyment of life, sensuality and a renunciation of earlier generations solemnity and strict morals have inspired a collection which dedicates itself to dreams and artistry."
Stine Goya's new collection has a second strong line that shows a masculine touch. Some of the tailored pant suits in deep black are made of semi-transparent materials.
On her website stinegoya.com, Stine Goya's fashion is described for an "...independent female, whose personal style is an articulation of self. A person who revels in beauty and intense surroundings, she self-assuredly combines clothing to express herself and her character."
In summer 2009, Stine Goya announced her fan-page on facebook.com with images of collections, shows, press coverage etc. By entering her website stinegoya.com, a woman is dancing on full-screen...
Video www.youtube.com/watch?v=aQDu5sj_7G8: Stine Goya in an interview about her work during the Copenhagen Fashion Week in February 2008.

Source: Original article with image and video on http://www.confashion.com/ss2010/stinegoya9-2009.htm.


more fashion.at/mobile>


News from
July - August 2009
May - July 2009
April - May 2009
Jan - March 2009
October - December 2008