WINTER STYLE
fall/winter 2009/10
by Valentino, Kilian, Jeweler AE Köchert, Diesel, Aubade, New Yorker, Calzedonia, Clinique, Peak Performance
How to dress up in a kind of jazz
Imagine a modern Betty Page in parachute trousers, ski-couture jacket, gaiters boots and balloon bag walking on the street in a rhythm such as she is just listening to Mile Davis' Kind of Blue. When she comes along, a captivating scent of tobacco, honey, patchouli, raspberry, camomile makes you sure: she is a kind of jazz.
The crossover of different styles - the 'jazz' of looks, is a main trend that will hold on even for spring/summer 2010.
In fall/winter 2009/10, Diesel for example has dedicated the Black Gold collection entirely to 'Kind of Blue' by Miles Davis; a record, that can be named a 'miles'tone in music history. The studio album by the US jazz musician was originally released in 1959. Video: Interviews with journalists and musicians like Herbie Hancock about Miles Davis' 'Kind of Blue 50th Anniversary'.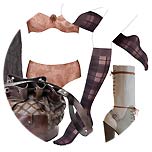 fig. (detail of the original): Valentino sunglasses in black with glam-chic lace decor from the spring/summer 2010 collection; balloon sack and gaiters boot in 30ies style from 'Diesel Black Gold' FW2009/10; parachute trousers from Replay FW2009/10; Clinique's 'Quick Eyes Cream Shadow' that allows to change the look from natural to glam easily - apply it one time for the natural look, two or three times for glam eyes; tartan tights from the Calzedonia line 'Design Decor' for a street style with a wink of irony; 'Doux Fantasme' in muscade from the Aubade FW2009/10 collection. The bra is made of the 'one piece bra' technology that forms invisibly. The powdery pink and pinkish brown tulle combination enhances the female figure. The Peak Performance Supreme Down Jacket (FW9/10) brings the idea of active sports into urban fashion. The jacket is from the ski-couture line of Peak Performance. The ring of onyx, white gold and the nude colored moonstone is from Jeweler AE Köchert; 'Back to Black: aphrodisiac' for men and women is the 8th perfume (released September 2009) from the Kilian collection 'L'Oeuvre Noire'. The perfume can be described as narcotic and aphrodisiac. It has a dark, warm, captivating effect. Perfumer Calice Becker's 'Back to Black' is a composition of historic scents with modern touch; in a way very 'jazz'. The 'Pop, Punk, Techno, Rave, Reggae, House, Soul, Jazz...' t-shirt from the exclusive Klub7 collection is available at New Yorker FW9/10. The urban art group Klub7 consists of six artists and designers from Halle and Berlin whose signature is to combine different styles from illustration such as comic and street and mix it up with music.
Source: Original article with images and video on http://www.fashionoffice.org/collections/2009/winterstyle10-2009.htm.


more fashion.at/mobile>
News from
July - August 2009
May - July 2009
April - May 2009
Jan - March 2009
October - December 2008