WINTER STYLE
fall/winter 2009/10
by Röckl, Humanic, Donna Karan, Triumph, Pierre Lang, Estée Lauder
The rules for sexiness stay the same, the means change
When it's getting cold, windy, rainy or snowy (or both), it's the right time to make yourself comfortable with warm perfumery essences, spiritual colors, and woolen materials. For staying sexy in fall/winter 2009/10, sleeveless dresses that unveil the body by showing naked shoulders and overknees in leather that simluate naked legs, make one of the most elegant dandy punk combinations.
Each season bears its own strategies to succeed in the play 'veiling and unveiling nakedness'.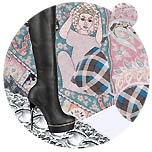 fig. (original):

Bag, gloves, scarf by Röckl fall/winter 2009/10
The German leather and accessories brand Röckl dresses up the model in a tweed dress, to present the checked gloves with bag, and scarf in Indian mythological pattern. One of Röckl's leading trends for this season is 'Poetry', a Brit-style between classic, romance and dandy punk with 'Modern Orient Express' travel elements.
Röckl celebrates this year the comany's 170th anniversary. Once, Sissi, the later Empress of Austria, and King Ludwig II wore gloves from Röckl!
Black leather Overknees supersize, seen at Humanic fall/winter 2009/10
Humanic fashion director Heidrun Pirch advices to wear the overknees in elegant style: combine a short dress that reaches with the hem over the end of the boots so that your leg is covered. For the elegant look, don't wear the boots in lacquer or too slim around the upper leg.
'Cashmere Mist' Eau de Toilette Spray by Donna Karan
Donna Karan's legendary fragrance - first launched in 1994, comes directly from the hall of fame of perfumery. Cashmere Mist is one of these scents which don't go out of fashion.
In 1994, Donna Karan has created a body line with the scents of Moroccan jasmine, lily of the valley, bergamot, sandal wood, and musk, which became so successful in short time that she accompanied the line by a fragrance.
For designer Donna Karan, the material cashmere is essential for her fashion. She loves the cashmere and transferred her imagination of the warm wool into a scent. Since 2007, Donna Karan is member of the Fragrance Foundation's Hall of Fame.
Miss Relax lingerie by Triumph FW9/10
Triumph announces its young Miss fall/winter 2009/10 collection with 'Attention Flirtzone'. Party, chillout, relaxing area, Hippie Girl, Miss Fame and Miss Relax are the keywords for Triumph's style-mix from retro 60ies floral prints to 80ies neon colors.
Rhodium-plated bracelet by Pierre Lang FW9/10
A 'timeless chain reaction' - that could be the description of Pierre Lang's silver bracelet. It is created to fit perfectly to business wear or an elegant cocktail dress.
Signature Lipstick in Blackberry, Signature Eyeshadow Quad in Lavish Plum, Opulent Shimmer Gloss in Cranberry by Estée Lauder, Holiday collection FW9/10
Each season, Estée Lauder presents new fashion inspired make up collections. For the coming holiday season, Estée Lauder recommends to appear opulent. The collection is inspired by the cocktail- and ball season with deep red colors and gold decoration. The 'Ultimate Red' look is made of smoky eyes with a color-mix from the eye shadow-box; the lips are in the warm, deep red from blackberries and cranberries. On the eyelashes, the Turbolash Mascara Gold Effects makes you look 'festive'. The Opulent Shimmer Powder gives the teint a warm shimmer.


Source: Original article with images on http://www.fashionoffice.org/collections/2009/winterstyle11-2009.htm.


more fashion.at/mobile>
News from
July - August 2009
May - July 2009
April - May 2009
Jan - March 2009
October - December 2008