Y-dress?
fall 2009
Vienna Insight by publisher Karin Sawetz, October 2009


Interview about trans-seasonal fashion and over-national sale
In mid-October 2009, I have met Brussels based designer Aleksandra Paszkowska in Vienna to speak about her label Y-dress?. I decided to show her one of the most famous cafés, the Café Havelka. A meeting place for artists, literati and musicians; this is the most common version Viennese are telling tourists. The special relation of Viennese people to the café is mostly not a theme, because it is not easy to explain. Examples therefore can be found on YouTube (video: 'A Naked in Vienna's most famous café'). But it is very rare that a naked man comes around; even on this day, I haven't seen one.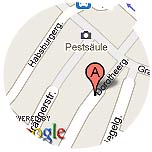 fig.: Café Havelka, Dorotheergasse 6 in Vienna, Google Maps.
I met Aleks Paszkowska on occasion of her business tour through Europe. On this evening, Aleks has spoken about how important it is for her to have a relationship with the shops where Y-dress? is available and that she is permanently on the search to find shops that fit to her label. She shows me maps from two quarters in Vienna, the 7tm and the Quader, where she walked through on that day. The Quader comes with a printed shopping guide in CD-size; very handsome, with short information (in English/German) on each of the selected shops. 7tm is an initiative of shop owners and designers of the city's 7th district; the group is using actively the website www.7tm.at to interact with clients. Next season, Y-dress? will be after Belgium, France, UK, Netherlands, Spain, Sweden, Germany, Switzerland, and Italy represented in Vienna. In Japan, Y-dress? is from time to time on sale on TV (!); it is planned to launch in the near future the Y-dress? online shop.
Aleksandra Paszkowska is a big traveller: in 2009, she has exhibited Y-dress? at several fairs such as in Paris (Rendez Vous), Barcelona (080 Barcelona), Berlin (Premium), and Munich (InFashion Munich). In Brussels, the Poland born designer has opened recently (early 2009) the second own Y-dress?-store.
Question: Why have you decided to open a second shop in Brussels?

Aleksandra Paszkowska: I was looking for an opportunity to open a temporary shop, as we already once did in the past...
Very often I was hanging out for breakfast in the "Marolles" - the fleemarket district in Brussels.
By a happy accident, a friend (Martine Doyen - a film maker living in this area) made me notice a small shop for rent in the walking street rue des Renards...
There was nothing to be paid to take over the shop, just the first rent - so I signed very spontaneously and opened 8 days later!!!!
It is central, only 10min by bicycle away from my main shop, rue Dansaert - but the clients are completely different - tourists and people interested in decoration and second hand come from all Brussels, and even all Belgium!
And now I can hang out in the sun in front of my shop, and drink coffee chatting with friends passing by!!! Another step to make work as pleasant as possible!!!

Question: For the ones, who don't know Brussels so well, please describe the surrounding of the new shop.

Aleksandra Paszkowska: Rue des Renard is a walking street in the fleemarket area, place de Jeux de Balle.
The market is held everyday, the rhythm is different from other areas - cafés open at 5 in the morning, so many people go there after the parties...and many shops. The visitors of the market are not very homogeneous - poor and rich, old and young, all nationalities: Algerian immigrant next to German Eurocrate...
antiquity-lovers go to find good occasions, students to shop second hand, artists to hang out in cafés...
People in search for decoration for their houses, families with children, groups of friends fill the streets - when the weather is good... We open only lunchtime during the week, and whole day during the weekends and vacations... It's the area that made me decide to stay in Bruxelles 20years ago...
Question: Can all pieces of the collection be found in both shops? Have you focused in one shop on sportive pieces and in the other one on the more elegant clothes
Aleksandra Paszkowska: We noticed that the people who discover one shop have the tendency to go and see the other one - so we adapted the offer to the area, to keep the visitors busy.
First of all - rue Dansaert is known for fashion, so people who come here know what they are looking for. So we sell the newest concepts at Dansaert, and we put forward the concepts.
Rue des Renards, the people are astonished and curious finding Y-dress? and they express easily their enthusiasm. According to the population of the flee market area, we offer among the new collection also the past seasons collection for a smaller price...that way we can make happy more people!
Question: Is it okay for you that Y-dress? is described as over-seasonal, concept-fashion?
Aleksandra Paszkowska: I would even go father - I'm not very interested in fashion, or seasons in fashion, but i'm very interested in our everyday lives... We have "trans-season sleeves" - to make your summer dress survive the winter...
Question: What does the label's name Y-dress? mean?
Aleksandra Paszkowska: The very first Y-dress? item is Y-shirt, the happy T-shirt! - ones I made it longer it became a Y-dress - which occured to me being a good question so I put a question mark behind it!
Question: When have you designed your first piece? Was it the Instant Princess dress?

Aleksandra Paszkowska: The Instant Princess is born some 6 or 7 years ago - a spontaneous outfit that I conceived in an emergency situation for myself for a Russian bal became a concept!
Question: Very practical is the towel-bag-dress. The dress is a bag as well as a towel. So if you are walking on the beach in your bikini you can carry the dress=towel as a bag. Or the happy T-shirt designed with arms up in the air gives you more freedom to move. It seems as if your aim is to make fashion as comfortable as possible; and you are realising it with simple patterns. How long are you working on the simplification of one fashion 'concept'?
Aleksandra Paszkowska: The concept usually take more than one season to "grow up" - we start from an observation, a "comment" on different ways of reacting to situations - and translate it to the little "trickfilm" language of Y-dress?. The dress materialising an idea needs a name, a usage instruction, a photograph - that takes time...than the form or color can change, but the concept remains the same, so it can last for much more than just one season...
Question: What's the highlight of your fall/winter 2009/10 collection?
Aleksandra Paszkowska: The rainbow dress made of 15m elastic silk. It can be worn with "trans-season sleeves"; also the Telescopique Dress.


Karin Sawetz is journalist, media researcher and fashion scientist (Mag. Dr. phil.). > sawetz.com
Source: Original article with images on http://www.fashionoffice.org/design/2009/ydress10-2009.htm.


more fashion.at/mobile>
News from
July - August 2009
May - July 2009
April - May 2009
Jan - March 2009
October - December 2008