ZIMTSTERN
spring/summer 2010
Thinking the world new
In fall 2009, the Swiss board sports label with focus on sustainable products published its new advertising spot, directed by Marco Lutz showing snowboarding on leaves in a forest. The new spring/summer 2010 collection follows the same idea: to bring together what is not thought as belonging together. Such as snowboarding on leaves becomes the most natural thing on earth in the spot, was the idea of bringing nature into the urban landscape the leading idea of the designs for the spring/summer 2010 collection with the name 'Wildlife'.
Video: The making-of Zimtstern's TV spot 'Leaves', directed by Marco Lutz; posted in Sept 2009. The team of Zimtstern, the riders and the creatives are speaking about their work on the movie.
Since two years the Zurich based Zimtstern team designs fall/winter and spring/summer collections under the same leading theme. The summer 2010 collection is a follow-up of the Wildlife-theme that was already worked out for FW2009/10.
Zimtstern combines in its fashion lifestyle and sport. 'In Contrast' (FW2008/9, SS2009) is about the fashion aspect of functional pieces.
Already in 2006, Zimtstern experimented during the football world championship (in Germany) with an athletics inspired fashion line named 'Hattrick' that presented football in a completely different way.
The open mindedness of the Zimtstern team resulted in the debut of a snowboard outerwear line (FW2008/9) certified by Bluesign. (The Bluesign standard was developed in 1997 for easy implementation into the production-chain of the textile industry - from the raw material, over retailers, brands to consumers. The sign is in the meanwhile a popular and trusted sign - especially in Europe, for the protection of human health and the environment.) Ispo, the International Trade Fair For Sports Equipment and Fashion with annual exhibitions in Germany and China, awarded Zimtstern with the Eco Responsibility Award in 2009. Not only the product was judged, but the whole corporate philosophy was evaluated.
For the SS2010 collection, the label made the next eco step with the bluesign certified rain protection jacket in the style of a parka made of Sympatex material which is composed of 100% environmental friendly polyester. The parka comes in flashy blue for women and dark grey for men.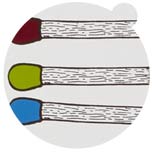 fig. original: Bright neon colors and asphalt grey are dominating the new SS2010 collection. You will find many checked pieces, from men's shirts to women's dresses. For the checks are traditional as well as abstract patterns in the style of 80ies minimalism in use; such as on the women's hoodie 'Peril' on this page. The hoodie is combined with the lilac striped boardshort 'Wave' and the (hot) skateboard deck 'Survive' which shows matches; some of them are already burnt down.

Source: Original article with images and video on http://www.confashion.com/ss2010/zimtstern12-2009.htm.


more fashion.at/mobile>
News from
September - October 2009
July - August 2009
May - July 2009
April - May 2009
Jan - March 2009
October - December 2008