MAC Cosmetics
spring 2010

A unified world reflected in makeup
In early 2010, New York based MAC Cosmetics, founded 1984 in Toronto (Canada) by makeup artist/photographer Frank Toskan and beauty salon owner Frank Angelo especially for makeup artists, presents the new look entitled with the label's motto 'All races, all sexes, all ages' as respond to a world that is more unified than ever before. It is announced that the products will come into the stores in Europe in February, in US already on 7th January 2010.
MAC works intensively with designers, musicians, and artists (Fashionoffice article from Aug 2009 "...anything that gets wet starts getting sexy" about the cooperation with Marilyn Minter, a photographer who delivers content for feminists) to develop the mostly limited editions for seasonal makeup colors. MAC is also known for its social activities like the Aids Fund (Fashionoffice article from Feb 2008 about 'MAC Viva Glam with musician Fergie') that was founded 1994 by Frank Angelo.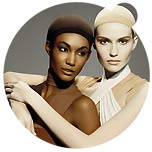 fig.: The 'multi-culture story' focuses on all skin types. Campaign image for the 'All Ages, All Sexes, All Races' makeup line. The lipsticks will be delivered in many colors that have names like 'Equality', 'Empowered', or 'Myself'.

Source: Original article with images on http://www.beautyme.com/cosmetics/2010/mac1-2010.htm.


more fashion.at/mobile>
News from
November - December 2009
September - October 2009
July - August 2009
May - July 2009
April - May 2009
Jan - March 2009
October - December 2008