MUSIC PRE-LISTEN by Karin Sawetz, September 2011
Pre-listen to the new album 'Batman'
In mid September 2011, I was asked to pre-listen to the songs of the new album 'Batman - Arkham City' (release 4 Oct) for giving feedback.
Music is a question of personal taste, consequently following ranking is a subjective statement and probably you will have a completely different opinion about the best songs on this album.
Nevertheless.
I prefer the dark-experimental-rock songs
optimized by a pain-biased voice such as I heard on the track 'Total Paranoia' by the Armenian in Lebanon born, Los Angeles living singer/songwriter and social justice-activist Serj Tankian

or compositions which carry into a dark wolves-forest such as 'Shadow On The Run' by Black Rebel Motorcycle Club (premiered already on RollingStone.com) - it catched me the first time I heard it

and great voices like the one of Davey Havok on 'Afterdark' by US electronic duo Blaqk Audio where he sings "...but who we become after dark..."

Possibly you prefer harder rock music; the 'Batman - Arkham City' track 'Deranged' by Coheed and Cambria premiered yesterday on IGN.com - listen yourself.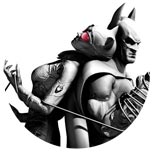 fig. original: Album cover 'Batman - Arkham City', release 4 October 2011.

The musicians had been inspired by the video game for their contributions. More about the video game 'Batman - Arkham City'.



Source: Original article with image on http://www.fashionoffice.org/music/2011/batman9-2011.htm.


more fashion.at/mobile>

News from
August 2011
July 2011
June 2011
May 2011
April 2011

subscribe
terms
imprint

(C) Sawetz, since 1996