BEACH STYLE
spring/summer 2011

sunglasses by Marc Jacobs
swimwear & sandals by Tila March pour La Redoute
jewellery by Luis Morais
bag by Heather Belle
sun protection by Elizabeth Arden
Female writers and their fashionable expressions
Writers and fashion! Some pieces on this page are designed by female writers. The swimwear and sandal wedges are the creations by a fashion editor of 'Elle' magazine, and the bag with the Mae West quote about the self-image of a woman and how it is constructed out of her relationship to men, is designed by a female who has released her knowledge about the 'Ex' even as a book.

Fashionoffice collected some additional pieces for a beachwear style like a shark teethes ring, sunglasses in coral form, and a sun protective stick from a line that was founded by a female pioneer of the beauty business in 1930.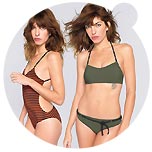 fig. original:
Swimsuit with stripes and bikini in khaki by Tila March for La Redoute, SS2011. Photo: Lou Doillon (daughter of Jane Birkin) photographed by her sister Kate Barry; (C) La Redoute. Tila March (founded 2006) is the label by 'Elle'- fashion editor Tamara Taichmann, who has created for this summer beachwear and accessories for the French online retailer La Redoute.
Sunglasses MJ 369/S in organic coral form by Marc Jacobs, SS2011.
Shark ring in yellow gold by US designer Luis Morais, seen in April 2011. Luis Morais began designing in 2000, because he couldn't get what he wants.
Shopping bag in yellow by Los Angeles based designer, author of a book about 'Ex', and mother of four children Heather Belle, seen in April 2011. The text on the bag - front and back, beginning with "I used to be Snow White, but I drifted... It's not the men in my life that count, it's the life in my men." is a quotation by the American actress, writer, and sex symbol Mae West (1893 - 1980). You can read the full text from the bag on Heather Belle's website heatherbelleco.com.
High-protective sun defense Stick (SPF 50) 'Eight Hour Cream' by Elizabeth Arden, comes in May 2011 into shops. The stick is developed to protect the skin on lips, nose, ears; for all skin types.
Sandal wedges in camel and black with metal closure in vintage look by Tila March pour La Redoute, SS2011.


Source: Original article with images on http://www.fashionoffice.org/collections/2011/beachstyle4-2011.htm.

more fashion.at/mobile>
News from
April 2011
March 2011
February 2011
January 2011

subscribe
terms
imprint
Sawetz (C) 2008/9/10