MEN STYLE
spring/summer 2011
jeanswear by Pierre Cardin
nylon jacket by Alpha Industries
daycare by Méthode Jeanne Piaubert
watch by Certina
shoes by Timberland, Geox

Formula 1 style

Fashionoffice has collected some pieces for a sportive-elegant style such as jeanswear by the French couture house Pierre Cardin for the Turkish Grand Prix from 6 to 8 May 2011 in Istanbul. After Australia, Malaysia, and China, it's this year's first European race of the Formula 1; and world champion 2010 Red Bull driver Sebastian Vettel is still in the leading position.

Formula 1 in the world of sports is like Haute Couture in fashion. The luxurious sports event is supported by several fashion and lifestyle labels which are using in return the publicity of the athletes for their promotions. It's the same like in high culture - without money no top sports! The style of these promotions could be described as sportive-elegant - sometimes with a humorous wink, such as seen at the Mercedes-Benz video about a pregnant woman who has to decide which Formula 1 driver, Nico Rosberg or Michael Schumacher - both are driving for Mercedes, shall take her to the hospital.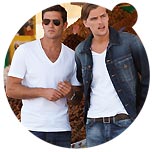 fig. original: Jeanswear by Pierre Cardin, SS2011. The picture was shot inside Marrakesh (Morocco). Pierre Cardin's fashion brings a hint of Haute Couture into the relaxed sportive style of jeanswear.

Pierre Cardin, born in Italy (1922) and moved as a child with his parents in 1924 to France to escape Fascism, is known for his Palazzo in Venice where Giacomo Casanova lived and his Marquis de Sade castle in France. Pierre Cardin worked before he founded his own label (1950) for Elsa Schiaparelli and Christian Dior. In 1959, he was the first designer who moved from Haute Couture into ready-to-wear.

Light weight nylon jacket 'Valve' in blue from the 'Utility'-line by US label Alpha Industries, SS2011.

Moisturizing anti-wrinkle 'Daycare' with ginger, bamboo and mountain plants, slows the growing of facial skin hair from the 'MJP for Men'-line by Méthode Jeanne Piaubert, seen in April 2011.

Classical sportive two time-zone watch 'DS Podium GMT Chronograph' by Certina, seen in April 2011. The brand Certina is strongly connected to sport stars - especially motor racing, such as Mike Doohan, Alex Crivillé, Petter Solberg, Sete Gibernau, Thomas Lüthi, Timo Glock, Robert Kubica and also boxing legend Muhammad Ali. Since 2005, Certina has been Official Partner of the BMW Sauber F1 Team.

Blue-white sneakers by Timberland, seen at the Viennese shop Stiefelkönig in April 2011.

Geox sneakers with breathable sole, seen at Stiefelkönig in April 2011. The Italian shoe label Geox has launched this year an own 'Formula 1'-collection in collaboration with the Red Bull Racing Team. World champion Sebastian Vettel and Mark Webber are wearing this season footwear designed by Geox. Additionally, Geox has created an edition of Red Bull (2 times Formula 1 champion in 2010 - construction and driver) pieces for women, men, and kids; premiered in mid-March 2011.

Source: Original article with images and video on http://www.fashionoffice.org/collections/2011/bluestyle4-2011.htm.


more fashion.at/mobile>

News from
April 2011
March 2011
February 2011
January 2011

subscribe
terms
imprint

Sawetz (C) 2008/9/10