9 July 2011 - Short Message
Video-interview: Iris Van Herpen about her Haute Couture collection

Netherland designer Iris van Herpen was invited by the Chambre Syndicale de la Haute Couture as a special guest to present her art-fashion at the shows on 4 July 2011 in Paris. The airy pieces - inspired by skydiving, with sculpturous details that look like bio-organic mutations, body-extensions of angels from heaven and hell traveled further to Berlin, where Iris van Herpen brought fashion-art and fantasy to the program of the Berlin Fashion Week, which is made mainly of practical, elegant ready-to-wear.
"In all my work I try to make clear that fashion is an artistic expression, showing and wearing art, and not just a functional and devoid of content or commercial tool. .... 'Form follows function' is not a slogan with which I concur. On the contrary, I find that forms complement and change the body and thus the emotion." states Iris van Herpen (born 1984; studied fashion design at ARTEZ, Arnhem) on her website. Iris van Herpen worked already with Alexander McQueen in London, Swarovski in Vienna... Since June 2011, one of her dresses can be seen on the album cover 'Crystalline' worn by the musician Björk.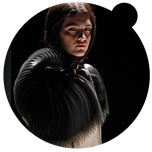 Photo original: Iris van Herpen presented by Mercedes-Benz and ELLE; catwalk view at the Mercedes-Benz Fashion Week Berlin on 8 July 2011. Photo: (C) Dan & Corina Lecca.

News from
June 2011
May 2011
April 2011
March 2011
February 2011
January 2011

subscribe
terms
imprint
(C) Sawetz, since 1996