AUSTRIA INSIGHT by publisher Karin Sawetz July 2011
Karin Sawetz is journalist, media researcher and fashion scientist (Mag. Dr. phil.).
eCross bikes, Haflinger horses, and Lama-trekking
After some cold days in July, it seems as if the 'Mountain-Fever' is broken out again in Austria. What makes the next season for me personally - I am a lazy walker, very interesting are tips for trekking with 'support-tools' like eCross bikes or the traditional Austrian mountain 'Haflinger' horses; several hotels in Austria are offering guided Haflinger-trekking tours.
The mountain-hotel Aurelio in Lech am Arlberg has sent the information about another option: Lama-trekking in the Austrian Alps. It is announced that the Lamas are carrying the picknick-cases.
As I couldn't imagine how this looks like, I searched online for a Lama-trekking video and found numerous private videos showing excited people walking beneath the friendly animals. For me personally, the best impression provides the video of 'Zorro' - a Lama in the Tyrolean Alps. Probably eBike and Lama could be combined for a tour...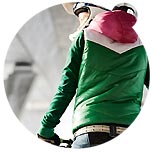 fig. original: Biker-outfit from the 'Alp Appeal' catalogue FW2011/12 by Maloja. (Read more about the new collection in th article 'Wild Hunt'.) Image from a Lama-trekking event by the hotel Aurelio in Vorarlberg (the Alps in Vorarlberg are joining the Tyrolean Alps); announced are tours between 22 July and 25 September 2011.


Source: Original article with images on http://www.fashionoffice.org/collections/2011/mountains7-2011.htm.


more fashion.at/mobile>
News from
July 2011
June 2011
May 2011
April 2011

subscribe
terms
imprint
(C) Sawetz, since 1996