HEALTHY LIFESTYLE
spring/summer 2011

Mineral water Römerquelle
Exercises and nutrition advice by Holmes Place Health Clubs
Smart food by Roland Trettl, Ikarus at Hangar-7

Erotic of culinary
In May, Fashionoffice has received several tips for healthy nutrition and a modern lifestyle centering on the body as a lustful experience.
Probably the label with the highest 'lust'-culinary factor in the beginning of this month is the Austrian mineral water brand Römerquelle (situated in Burgenland, belongs to Coca Cola) which promotes in the new campaign nature as an enjoyable place. The images and a short video show a crowd of women and men at a lustful picknick in the green grass; the creators of the video have dimmed the light. The viewer is invited to complete the story about the things that happen with the own imagination.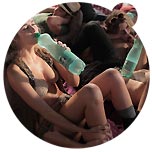 fig. original: Image from the Römerquelle campaign; released in May 2011. Photo: Römerquelle.
Director Christian Aeby's main roles in the 30sec video for the TV campaign are not the models such you can see on the image on this page. There are more the details of their smiling, eating and drinking lips, touching hands and fingers that express the idea of the 'erotic of culinary'.

Exercises and eating tips in combination for a better body feeling come also from the Holmes Place Health Clubs (founded 1980 in London, today 75 clubs worldwide) under the holistic motto 'move well, eat well, feel well'. Therefore the experts from Holmes Place have sent a guidance for summer with body-shaping exercises, methods to enjoy eating for a slimmer body, and tips for feeling well such as starting the day with an enriched breakfast with a lot of vitamins and minerals - not only for the health of the body, also for a good mood. The program is a basic-health guide with several tips everybody has heard from - but it's the combination of the activities and the advices how to schedule them the whole day through that can improve the health and beauty of the body better than without any strategy.

Even the next example shows that holistic methods are in fashion when it comes to the 'body'; such as seen at the new book of the South-Tyrolean Roland Trettl, cook at the Ikarus in Hangar-7 (in Salzburg, Austria, belongs to Red Bull). In collaboration with Swiss nutritionist Marianne Botta, Roland Trettl has created for 'Smart Food' (released in May 2011) 136 recipes under the aspects brain food (for example better concentration), mood food (happiness boosters) and beauty food (healthy hair and skin). In the Hangar-7 journal, the book is announced as a guide to become fit like a sneaker, a genius like Albert Einstein and beautiful like Gisele Bündchen.

Albeit 'beauty' is relative: Albert Einstein is in a special way a 'beauty' too - probably there are more posters of genius Albert in students' locker rooms than posters that show Gisele. Tip by Fashionoffice: don't stress yourself because of your body - enjoy it!

Source: Original article with image and video on http://www.fashionoffice.org/cuisine/2011/nutrition5-2011.htm.


more fashion.at/mobile>

News from
April 2011
March 2011
February 2011
January 2011

subscribe
terms
imprint

Sawetz (C) 2008/9/10