WOMEN STYLE
spring/summer 2011
fall/winter 2011/12
T-shirt by Masala Tee
Jewellery by Swarovski
Skirt and shoes by Mango
Fragrance by Lolita Lempicka
Secrets we never say

Some fashion and beauty pieces are telling stories that are never told but always in our mind such as the secrets of becoming a woman. Some transport visionary ideas of living in a multifaceted world made of various cultures and some are exploring nature as a magical place of continuous transformations.
Fashionoffice has collected some pieces that reflect the world of thoughts of mainly female fashion and beauty designers.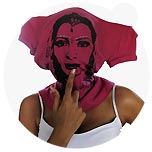 fig. original:

Red 'Masala Tee Jewel' organic cotton t-shirt with photo print and Swarovski stones from the 'Jewel'-collection by Masala Tee, seen in May 2011.

The Masala Tee designers, two friends from Singapore and France who are now based in Delhi (India), create t-shirt collections for women, men and kids. The Masala Tee designers show humour in their creations as well with their mantra: "Save This Planet, It is the Only Planet with Tea and Chocolates"

"For us, 'Masala' philosophy would mean an interest & respect for all cultures, an appreciation of the melting pot and love of everything different & enriching AND that gives you a kick in life!" state the Masala designers. They have nice presentations of their lookbooks online, such as the social media inspired 'Fans around the World' slideshow with a French love song on issuu.com/masalatee/.

Black epoxy bangle with ruby red and black cabochons from the 'Wings of Fantasy'-collection by Swarovski, FW2011/12.

The collection developed by Swarovski Artistic Director Nathalie Colin is inspired by the idea that nature is built from mysterious, rhythmic and ornamental elements. The bangle on this page is from the 'Mysterious Disguise' theme which stands for magical transformation and diversity.

The bitten apple-flacon contains the eau de toilette 'First Fragrance' by Lolita Lempicka, limited edition for summer 2011. Photo: (C) Luc Monnet.

Since 1997, the French couture and perfume house Lolita Lempicka presents 'First Fragrance' editions, created by fashion designer Lolita Lempicka, conductor Catherine Dauphin, perfumer Annick Menardo and designer Sylvie de France, telling the secret story of the moment when a girl becomes a woman. The apple flacon stands for the 'bite of the forbidden fruit' when the desire awakens.

"I created My First Fragrance by drawing on my most distant memories to recreate that intense moment when a girl is waiting to become a woman. To the girl, I offered the flavour, and to the woman, I offered the flower. And that is how the intoxicating nectar of Liquorice Flower came into being." Lolita Lempicka.

Skin colored leather skirt and shoes by Mango, SS2011.

Source: Original article with images on http://www.fashionoffice.org/collections/2011/womenstyle5-2011.htm.


more fashion.at/mobile>

News from
April 2011
March 2011
February 2011
January 2011

subscribe
terms
imprint

Sawetz (C) 2008/9/10