Fashionoffice's circulation
Fashionoffice has installed tools for the measurement of the performance of the magazine's inventory slots (definition of the Fashionoffice inventory).
From 31 December 2011 until 31 December 2012, Quantcast measures that most of the people on Fashionoffice come from the United States, Austria and United Kingdom. In November 2012 for example, Quantcast counts 6.882 people from the United States (49,25% from in sum 13.972 people in November, grows to 57,22% in December), 1.154 from Austria (8,25%), 507 people came in November 2012 from United Kingdom (3,62%).
(DoubleClick co-provides technically the content which appears via inventory slots on Fashionoffice and delivers anonymous data about geography too: results of the DoubleClick measurement concerning impressions and clicks.)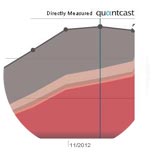 fig. original: People (Top 5 Countries) on Fashionoffice, 31 December 2011 - 31 December 2012; source: Quantcast. Find live data and view statistics about Fashionoffice back to 2009 on quantcast.com.
Source: Original article with image on http://www.fashionoffice.org/survey/2013/quantcast1-2013.htm.

more fashion.at/mobile>

News from
December 2012
November 2012
October 2012
September 2012
August 2012
July 2012
June 2012
May 2012
April 2012
March 2012
February 2012
January 2012

subscribe
terms
imprint
(C) Sawetz, since 1996