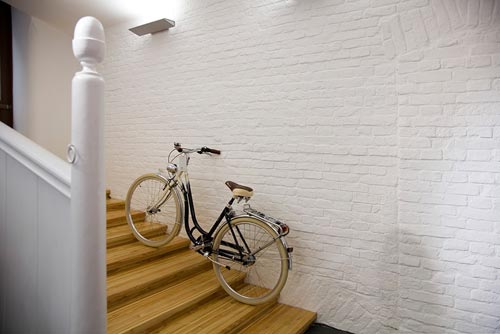 fig.: The nostalgic city bike 'Diamant Topas' is one of the tips provided by the shop Trek Bicycle Vienna, February 2014. The design is inspired by a bicycle from 1912. On the photo, it stands on the 'horse staircase' inside the house where the shop is built in. In former days, the space was used as stable for the carrier horses of the city's famous 'Fiaker'.


Vienna Insight
by Karin Sawetz, publisher Fashionoffice
25 February 2014

Bicycle trends in Vienna

Trek Bicycle sent some tips for cycling. I selected two bikes which are great for metropolitan cities like Vienna. Especially one bicycle type - the folding bike (image below) is very practical as the public transport is in most of the districts and regions the fastest option. For sure, people who are living in lonesome regions or the ones with physical challenges are excepted from this statement. But for the others, the combination of public transport and bicycle is probably the best solution to reach a destination. Even the motorbike is in high traffic times not as fast as the subway on a distance of around 10 city-kilometres - I have tested it.

fig.: The folding bike 'Tern Link D8' has 12.1 kg and measures in folded mode 38 x 79 x 72 cm. Photo provided by Trek Bicycle Vienna, February 2014.