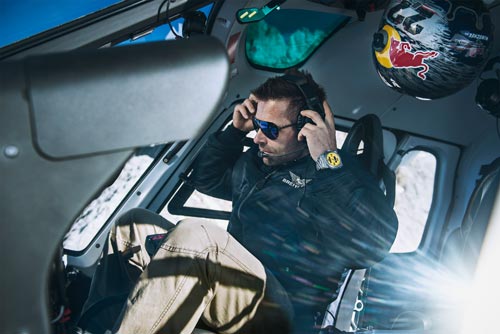 fig.: The image shows pilot Hannes Arch in a helicopter wearing the new Breitling 'Emergency II', launched in Austria in July 2014. Photo: (C) zooom_Markus Berger.
Location detection technology via satellites
In mid-July 2014, watchmaker Breitling's 'Emergency II' was launched in Austria together with adventurer and air-racer Hannes Arch who is one of the country's best pilots; the world champion won recently the Red Bull Air Race in Gdynia (Poland). Arch explains on his website how the watch Emergency II works: "As soon as the signal is activated, the watch transfers location data via satellite so that the rescue services can act fast and efficient. It's also great that the Emergency II works everywhere in the world - on land, water and up in the air."
The video below introduces into the Cospas-Sarsat search and rescue system which runs over a network of satellites. Breitling transferred the dual frequency transmitter technology into new (miniature) design and implemented it into the wristwatch.




more motor>