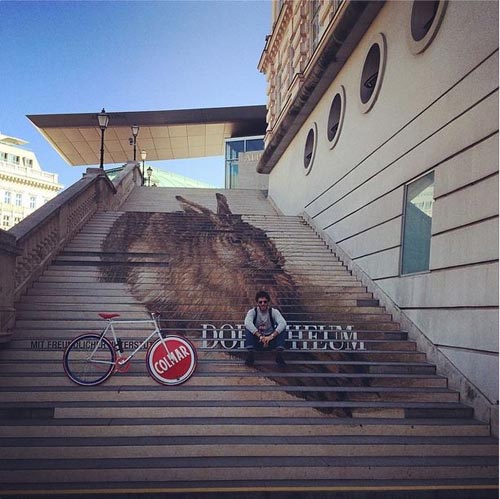 An Italian writer on fashion-bike tour through Europe
Recently on 4 June 2014, Italian writer and bicyclist Nicolò de Devitiis (also known under his blogger-diarist name '_divanoletto') reached - after the start of the tour in Milan, Vienna which is the first city of his European bike diary in cooperation with the Italian fashion label Colmar Originals (map). On the website rideinstyle.colmaroriginals.it, Nicolò de Devitiis writes about his impressions of the city and posts images which show him with his bike in the streets and parks of Vienna. The impressions reach from restaurant and design shop visits to a classical concert at Musikverein (famous for its architecture which provides great acoustics) or art/culture locations like Mumok or Albertina.
fig.: The image shows fashion-bike writer Nicolò de Devitiis sitting on the stairs of the Albertina; the stairs are illustrated with Albrecht Dürer's rabbit. Beside him, fashion label Colmar's bike which accompanies him on his city explorations of design, art, music, culinary and fashion in Europe. Photo by Thanh Dinh; provided by Colmar Originals.

Today on 7 June 2014, Colmar fashion-bike writer Nicolò de Devitiis cycles in Berlin. The tour will lead over Amsterdam (10 June), Paris (13 June) to Florence (18 June) - right in time with the men's wear fair 'Pitti Uomo'.