20/21/22 June is racing weekend
Currently, Austria is in fever for Formula 1 which starts tomorrow on 20 June 2014 in Spielberg, Styria. The country's TV and media publications (print, online) are filled with reports and articles about the Grand Prix of Austria (race on 22 June) such as about the grid girls' dirndl-dresses (inspired by the rural clothing of the region) or the historical aspects of the circuit which dates back to the year 1969. Races such as the F1 are red threads for tracing back technological developments of automobiles.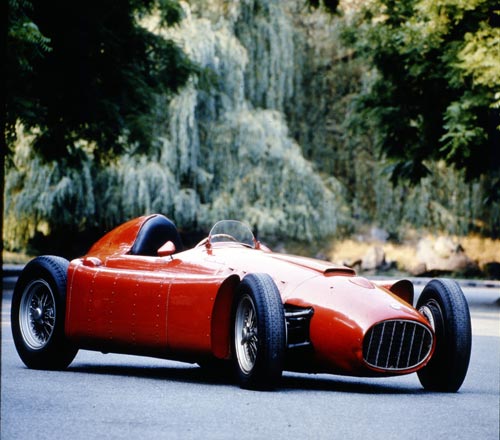 On occasion of the 'Vernasca Silver Flag 2014' from 20 to 22 June in Italy, Lancia sent some images of historical cars which will participate in the hill climb driving event which is a non-competitive race. The participating cars are the D50 Formula 1 single-seater (photo), the Fulvia Coupé HF 1600, the Stratos Alitalia Gruppo 4 and the world's one example of a Lancia D25 Sport. The all-family race (article about last year with photos) is a tribute to the historic Castell'Arquato-Vernasca time trial which ran from 1953 to 1972. This year's 'Vernasca Silver Flag 2014' is especially dedicated to Lancia which celebrated sporting triumphs during the 1950s with the D24, D25 and D50 (driven in the World Constructors' Championship and Formula 1) and during the 1970s/80s when Lancia won rallies and received World Championship titles with the Fulvia HF, Stratos and Delta.
fig.: D50 Formula 1 single-seater, photo provided by Lancia on occasion of 'Vernasca Silver Flag 2014' from 20 to 22 June 2014. The car was built for the 1954 World Championship. Lancia about the technology of the automobile: "A truly innovative F1 car for the period, the D50 adopts an eight-cylinder V engine fitted transversely, allowing the propeller shaft to pass next to the seat rather than under it, lowering the car's centre of gravity and improving stability. The rear gearbox is transverse, while the characteristic side tanks improve aerodynamics and permit weight distribution to be maintained from the beginning to the end of the race."


more motor>