New motorcycle, clothing, smartphone...
...selected by Fashionoffice in mid-November 2014 from the current news of brands such as Honda, Microsoft Lumia, Alpha Industries, Prostpolsterei, etc. The file of this article is named 'mensstyle' though the items are - all of them and not only the unisex clothing pieces, dedicated to women as well.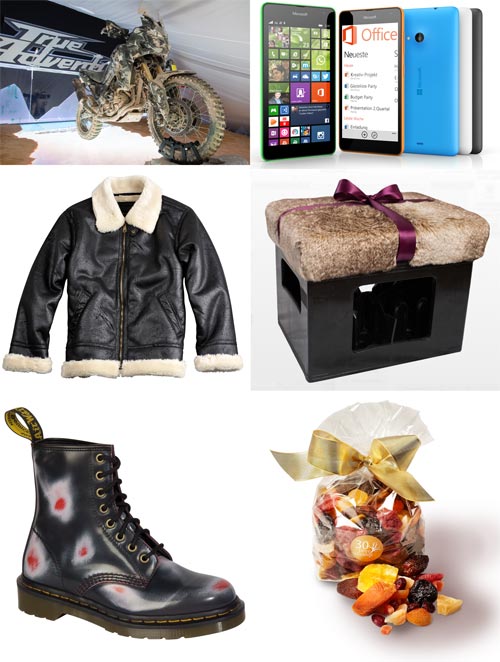 Honda's 'True Adventure Prototype' motorcycle (with off-road qualities) premiered recently (6 -9 November) at EICMA in Milan where the new trends for 2015 were presented. No further technical details have been released by Honda yet - except that the bike is designed for a journey around the world. Photo: Ula Serrra.
More information is available about the 'Microsoft Lumia 535' smartphone which hits the market with an affordable price (ca. 119.- Euros in Germany) measured at features like a 5'' display and 5 MP wide angle front camera with flash. It's the first smartphone from the Lumia range which is branded with the name 'Microsoft'.
The (unisex) 'B3 FL' black fake leather jacket in vintage pilot style by Alpha Industries with warm teddy fur at the edges and collar is available since this autumn 2014.
The Austrian label Prostpolsterei sent some Xmas tips for up-cycling the beer box such as on view at the image: the BiPo (acronym for Bierpolster - German for 'beer cushion') is made of fake fur and carries the name 'BiPo Bear'.
The (unisex) Dr. Martens 'Core Pascal' 8-eye leather boot in navy with white/red rub-off effect coloring is from the 'Reinvented'-line of next Spring/Summer 2015.
And the last picture on this page shows mineral-rich dried fruits by the Viennese beauty and nutrition store chain Staudigl. The fruits are a good tip for strengthening the immune system on colder days.
Photos: (C) the mentioned brands.

Related articles: