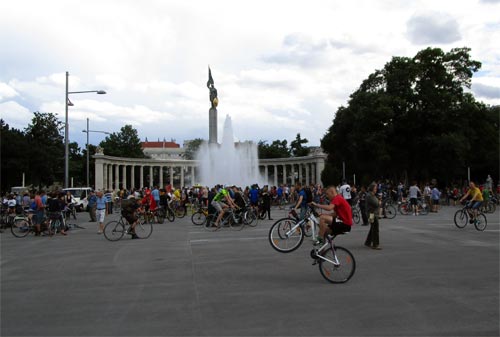 Naked Bike Ride Vienna
Yesterday on 20 June 2014, the Naked Bike Ride event was held in Vienna. On many websites, the initiative for raising awareness for the impact of cycling in cities on pollution-reduction can be found by searching for World Naked Bike Ride such as on Time which reports about the health aspects of the naked ride and cites a sport physician "Ouch". Some would ask why nakedness on the bike? It shall demonstrate how vulnerable cyclists are.
The World Naked Bike Rides happen from early until the end of June in various cities worldwide; Portland for example dedicated an own website and stylish video to the event. After Vienna, the Austrian cities Graz and Salzburg will be the meeting places of naked riders - both on 27 June. The motto of the global events is 'Bare as you Dare' which means that it isn't obligatory to appear without clothes.

fig.: View at the Schwarzenberg Platz in Vienna where cyclists met for the Naked Bike Ride on 20 June 2014. Some of the participants were indeed nude on this rather colder 'pullover'-day.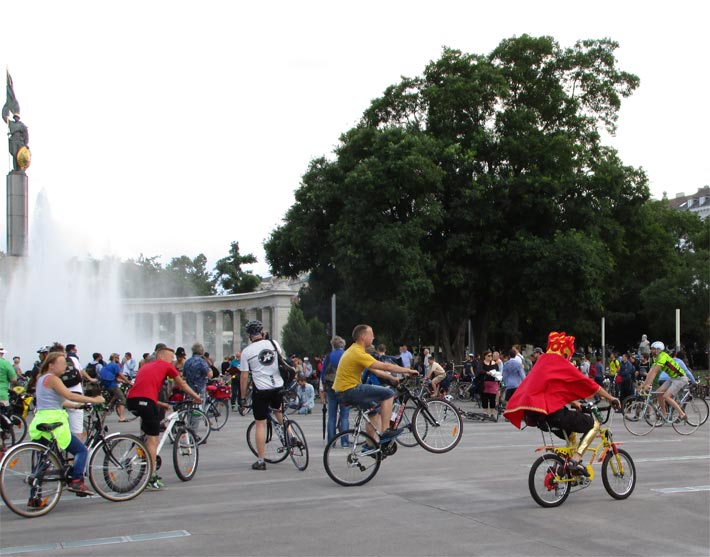 more motor>