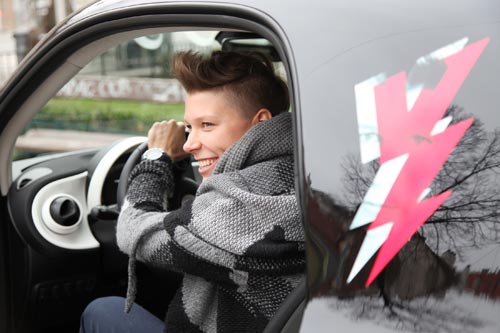 Young music talent Virginia Ernst's new car and styling
23-years old Virginia Ernst is two times music chart breaker on Austria's radio station with the highest reach (Ö3). Currently, she ranks with the track 'Soldier' on the first place of the latest Ö3 Audience-Charts (checked today on 17 December 2014).
In mid-December, Virginia Ernst sent images of her new car, a Smart ForTwo Sporty. On the pictures, she is styled in fashion from the store KissKissBangBang. The ice hockey athlete, trainer of a youth team and singer is the new face of car retailer Wiesenthal Bergstaller (Vienna) and the Viennese store KissKissBangBang; last mentionend is known for fashion with rock appeal. Another view of her in KissKissBangBang clothes is published on Facebook. It is worth to be a chart breaker!
Photo: KH/Virginia Ernst.