23 March 2015

Fashionoffice selection: jeans on bike, helmets for babies, new sneakers, and revitalizing skin care
Since several years, Levi's releases special men's items for cyclists. In Spring/Summer 2015, it's the first time that the Levi's 'Commuter' pieces are available for women too. The items are very similar to the current fashion collection only that their materials (water-resistant, dirt-repellent, etc) and cuts (higher waist for trousers, dropped hem for jackets, functional extras) are especially chosen and designed for riding on the bike such as on view at the outfit on this image.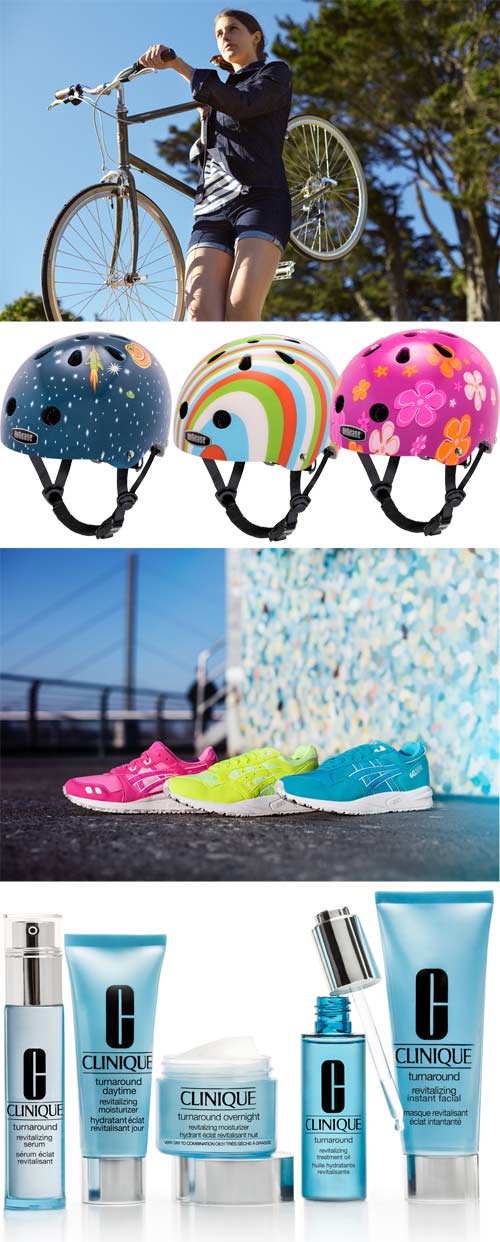 The 'Trucker' jacket is made of water-repellent stretch jeans and the cut shows a longer hem at the back. Not on view is the hood which is packed into the collar and the pockets for secure storage. The jacket is combined here with the Commuter high rise stretch shorts with reflective cuffs. Levi's publishes a video which introduces into the fashion and textile technology behind the Commuter collection.


Fashionoffice selected some additional products for the jeans bike style:
The new Baby Nutty helmets by Nutcase will be available at stores from April 2015. The information was sent with the motto 'Style up your baby'. The helmets are for children's head size XXS (47- 50cm). According to Nutcase, the helmets will weigh 280 grams. They come in three different designs (from left): 'Outer Space' with rocket and planets, 'Nutty Swirl' with color bows and the pink blooming 'Petal Power'.

The Asics Tiger neon-colored sneakers with white gel sole from the 'Summer Kite Pack' will be released in early April.

The 'Turnaround'-series by Clinique is classical. Now, the brand presented the new additional 'Turnaround Revitalizing' product line which will come into shops in early April. The basic idea of the Turnaround products is to peel the skin. Almost legendary is the 'overnight' cream. On view at the image, the 'Turnaround Revitalizing' line: serum, daytime moisturizer, overnight moisturizer, treatment oil and instant facial.




more motor>