6 December 2015

Italia Independent's interpretation of the iconic 1970s Ducati Scrambler motorbike
The first images of yesterday's premiere of the new collaborative Ducati Scrambler x Italia Independent motorbike (limited to 1,077 pieces, release April 2016) and eyewear collection at a night event during Art Basel Miami have arrived already online on Social Media and media platforms.
One of the images shows Italia Independent co-founder and Chairman Lapo Elkann on the new matte black 'café racer' motorbike with night copper frame and black leather seat. He wears sunglasses from the Ducati Scrambler x Italia Independent collection. Lapo Elkann about the premiere and partnership (three-year collaboration agreement) between the two labels: "Art Basel has a certain charm which makes the launch of this all-Italian partnership even more special. Style and technology, heritage and innovation, but more than anything else cohesion and synergy between the two teams, consisting of men and women working together, are the true strength of our two companies and the key to success for this collaboration."
The Ducati Scrambler x Italia Independent motorbike is outfitted with an aluminum plate with laser etching which carries the unit's serial number. The sunglasses in dark black with rubber surface treatment and mirrored copper-colored lenses reflect the timeless style of the motorbike (image below). The complete range consists of five models; the four other models reference in aesthetics and color schemes different versions of the Ducati Scrambler.
fig. above: Lapo Elkann at the Italia Independent X Ducati Celebration on occasion of the launch of the new Ducati Scrambler at Setai Hotel on 5 December 2015 in Miami Beach, Florida. Photo by Dimitrios Kambouris/Getty Images For Ducati; (C) 2015 Getty Images. Below: Motorbike and sunglasses of the Italia Independent x Ducati Scrambler collaboration (motorbike available in limited edition of 1,077 pieces from April 2016).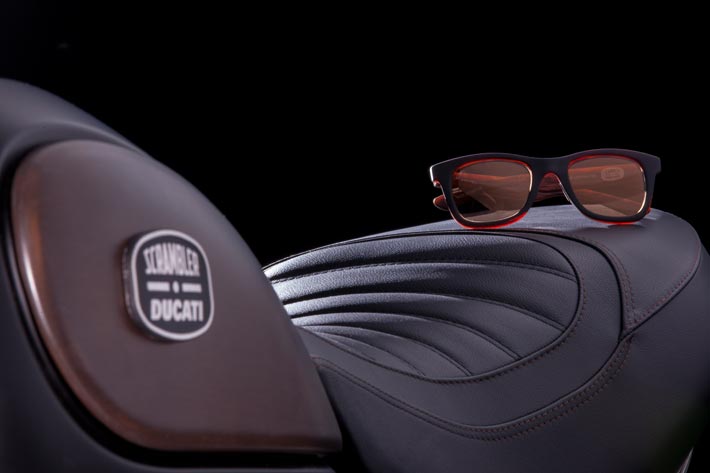 more motor>