16 March 2015
Fashionoffice selection with new items for city cycling: fashion, beauty and bike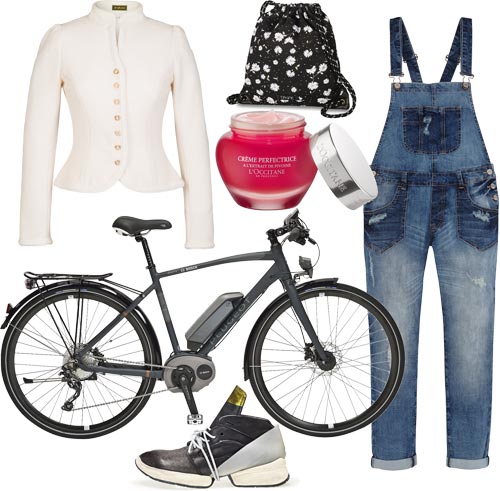 One of the core trends this season are e-bikes - from mountain to folding bikes. Peugeot for example presents this season several hybrid cycles such as the E-Trekking Bike eT01 (on the image the gent version) with a battery by Bosch which reaches between 60 and 160 kilometers. Photo by peugeot-bikes.at, (C) Philippe Masson.
Another trend this season is the backpack. The rucksack is perhaps in fashion again because of the cycling and walking trend in metropolitan cities. The tote backpack 'Shasta Stripe' with white wildflower print on black is from the current 'Paige' collection by Dakine.
And then there are the denim dungarees and overalls which seem to be essential in 2015. Fortunately, they are practical on bikes too. The denim piece by Review was seen at Peek & Cloppenburg in Vienna.
Fashionoffice styled for the metropolitan city look the comfortable jeans with an elegant (slightly elastic) jacket by the trachten label 'Lena Hoschek Tradition'. The Austrian term for such a jacket is 'Walkjanker' which is a combination of a word for the textile refinement method of felting wool (makes the fabric slightly elastic and turns it into a climate-regulator) and the dialect expression for jacket (janker). 'Walkjanker' could be translated as 'Felt-Jacket'. Trachten originate from work and daily wear of people in the Alpine mountain regions. The items of the collection carry names which denote the regional environment; the jacket's name on the image is 'Gletscher' (transl. 'glacier').
Perfecting creams such as the upcoming one from the new 'Pivoine Sublime'-series by L'Occitane (available in Austria from April), combine skin care and correcting features. In the case of the new L'Occitane product, it supplies the skin over many hours with moisture, and the mineral-based correctors apply visual effects such as radiance and a fresh look to the face.
And last but not least: the shoes. Shoes without functional sole are like bikes with low-quality techniques. The Airstep Sneaker is currently on sale at Salamander in Vienna. Photo: (C) Mischa Nawrata, Salamander Austria.


more motor>