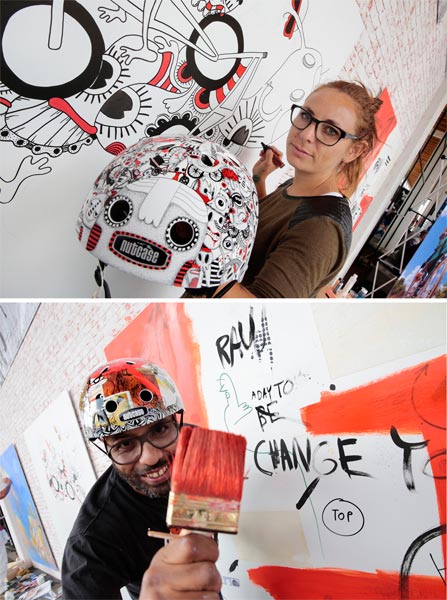 27 June 2015

Live paintings by artists of Nutcase helmets at Eurobike and Interbike last year and presentations in 2015
Last year, the winners of Nutcase's first ever 'Unframed' helmet design contest Sandra Ramirez, Ray Moore and Todd Standish re-produced the prize winning artworks on canvas during live painting performances at Eurobike (August in Friedrichshafen, DE) and Interbike (September in Las Vegas, Nevada, US). The paintings were auctioned later for the good cause. In November, Nutcase reported that more than 7.000.- $ were collected for the World Bicycle Relief organization which supports infrastructure in developing countries by connecting people through bicycles for an easier access to education, health care and economic opportunities. Therefore, WBR and rural Africans have designed the robust Buffalo bicycle. The parts of the bicycle are produced in Asia and assembled in facilities in Africa.
fig.: Nutcase Unframed 2014 winners Sandra Ramirez, Ray Moore, and (image below) Todd Standish. Photos: (C) anja köhler | andereart.de. Since spring 2015, the 'Nutcase Unframed: Artist Edition 2015' is available: the Locombia with sketches of little monsters by Colombian artist Sandra Ramirez, the street art collage Boogie was created by Munich-based US artist Ray Moore; Cloud Nine by American artist Todd Standish makes think of classical Renaissance paintings à la Michelangelo.
Currently, Nutcase works on the realization of the helmet designs by the winners of the Unframed 2015 contest whose artworks will be presented at Eurobike and Interbike this year.