7 April 2015

Peugeot Foodtruck on tour - at Milan Design Week and Expo Milano 2015
Peugeot Design Lab dedicated the car maker's culinary vehicle to haute cuisine. 'Le Bistrot du Lion' - so the name of the food truck, premiered with a prominent chef at the Parisian market hall 'Carreau du Temple' on 2 April. Chef Sven Chartier (restaurants Saturne and Le Clown Bar in Paris) stands with his style (regional products and organic farming) for the idea of the mobile restaurant.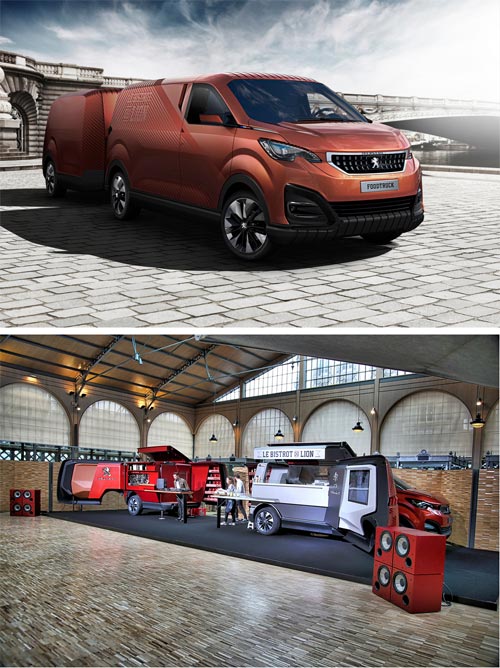 On 14 April, the food truck will stop at Milan Design Week, the Salone del Mobile Milano (open until 19 April) and travels later to the French pavilion at the Expo Milano 2015 (1 May - 31 October) which chose as central theme 'Feeding the Planet, Energy for Life' with special focus on tasting the best dishes and gastronomic traditions of the more than 140 participating countries.
Peugeot's design lab celebrates the making-of dishes: via 46-inch screen, every move of the chef can be viewed while he or she prepares the food at several work stations like grilling plates, induction burners or deep fryer. For the design of the kitchen and its equipment, Peugeot Design Lab collaborated with the French food truck specialist Euromag. The results of the collaboration are in compliance with health and hygiene standards like air quality through a ventilation system and fresh food from the 400-litre refrigerated under-foot compartment. An additional 350-litre refrigerator is available for beverages and an espresso machine delivers coffee.
The guests outside of Le Bistrot du Lion can dine on standing tables and under Umbrosa parasols, and via sound speakers, they can listen music served from the new Peugeot Music platform which provides web radio and playlists by DJs.
Tables, speakers etc are carried by the truck as well as the tableware. Together with the truck, Peugeot Design Lab presents the new salt and pepper mill set 'Milan'. It's announced that before it enters the market, the Milan mill set will be exclusively available at the French Pavilion during Expo Milano 2015.
Peugeot is mainly associated with cars, bicycles and scooters. But the company has a long tradition in mills too; in 1840, the first coffee mills and in 1874, the first pepper mills were sold. Nowadays, Peugeot manufactures 2.5 million mills each year.