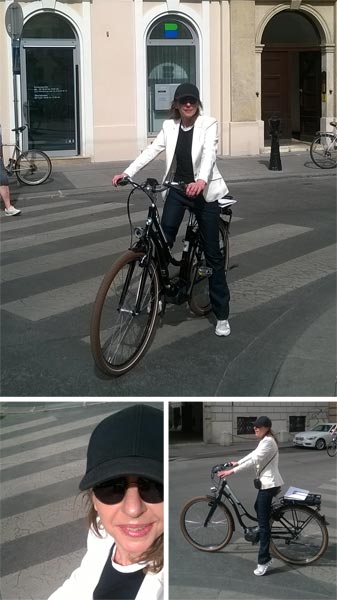 Vienna Insight by Karin Sawetz, 16 April 2015

Testing the new Puch e-bike Waffenrad in the streets of Vienna
Today, I tested a new e-bike by the legendary Austrian bicycle, car and motorcycle label Puch which was founded in the late 19th century and presents since two/three years new bike collections. The 'e-bike Waffenrad' pays tribute to the original late 19th century Waffenrad which received its name (transl. weapon bike) as it was produced in times of peace in the manufactories of the arms industry; in other words, it's a 'Peace Bike'.
The frame and the outfit (such as the brown antique leather-like saddle) are retro-elegant, very robust such as the original Waffenrad and since this year equipped with a 250W motor. When the maximal allowed speed of 25 km/h is reached, the motor stops the support of the pedals. The speed limit has security reasons as a cyclist doesn't need a driving license, insurance or a helmet.
It's very comfortable to ride the pedelec (Pedal Electric Cycle); three different motor strengths can be chosen - ECO, Normal and High. My route led me on bike roads (ECO or Normal) and streets (High) with 30km/h speed limit through the inner city of Vienna where I kept without too much effort in pace with the (car, motorcycle) traffic flow. The brakes are excellently attuned to the power of the bike; last-mentioned criterion is absolutely important in the city as pedestrians go across streets whenever they like - not only at zebra crossings.


more motor>