28 June 2015
Volvo Ocean Race onboard sports reporters about working via satellite technology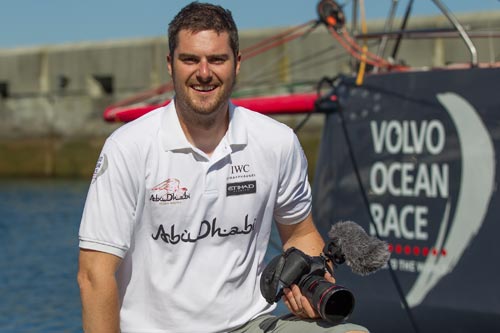 fig.: Matt Knighton, Onboard Reporter, team Abu Dhabi Ocean Racing. Knighton is the winner of the Inmarsat Onboard Reporter (OBR) Award, Volvo Ocean Race 2014-15. Photo: (C) Ian Roman.
Yesterday, the American (Chicago-based) Matt Knighton, team Abu Dhabi Ocean Racing, received the Inmarsat Onboard Reporter (OBR) Award for his journalistic work during the Volvo Ocean Race 2014-15. During nine months from October 2014 to June 2015 over the route of almost 40,000 nautical miles from Spain to Sweden, he captured the race and personal stories about the eight members team on board.
Matt Knighton's work was selected after the criteria creativity, quality and story-telling as winning production from documentary material of seven hours video, 315 photos and more than 30,000 written words.
The race reporters speak in a video about iworking with mobile satellite technology which was provided by Inmarsat, the name giver of the award and one of the main sponsors of the Ocean race. Per day on board, several photos, around three minutes video for streaming and written blog text (around 200 words) were uploaded by each of the sports reporters. In the video, one of the journalists says that technology doesn't change story-telling but the use of the information; in former centuries, the sailors packed the stories into a bottle, now they upload it to a satellite.
Inmarsat Facebook post (from 28 June) with photo concerning the provider's Onboard Reporter Award Gala in Gothenburg (Sweden):

Congratulations to Matt Knighton from Abu Dhabi Ocean Racing who has won our Inmarsat Onboard Reporter (OBR) Award for...

Posted by Inmarsat on Sunday, June 28, 2015
more motor>