8 June 2016

Traveling and board culinary of the German national team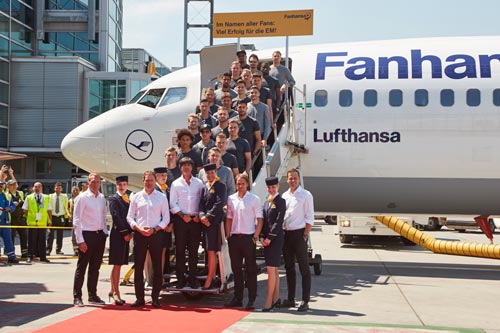 In these days before the start of the EURO 2016 on 10 June, it seems as if pictures, stories about every step national football stars take circulate online. If it's an athlete's activity in fashion, the face of a country's star player at a caricature, or the transport collaboration such as in the case of the German national football team which was carried with a plane by Lufthansa with a special flight to the European Championship in France - even events with everyday character are attributed in times of football fever with higher news value.
The image on this page shows members of the German team consisting of players, coaches, staff and representatives of the DFB (the German Football Association) in front of the plane at the departure from the Frankfurt Airport on 6 June at exactly 14:02 such as Lufthansa reports. The flight took 1 hour and 20 minutes to reach the airport in Chambery Savoie nearby the team's accommodation which was already depicted in several Austrian daily news publications.
According to Klaus Froese, CEO Lufthansa German Airlines Frankfurt Hub "Many Lufthansa employees are already in football fever and are keeping their fingers crossed for the German team."
The board culinary was fashioned to the athletes' needs: Sandwiches with beef pastrami or vegetarian ones with cream cheese, a fruit plate and a range of nonalcoholic beverages.
Nothing stays unnoticed in these days of EURO 2016!
fig. above: German football team boarding 'Fanhansa' by Lufthansa from Frankfurt to Chambery Savoie Airport on 6 June 2016. Below: 'Fanhansa' taking off. The Boeing 737-300 received a special lacquer outfit with 'Fanhansa' writing and names of around 300 fans at the aircraft. The 300 fan names were selected from 65,000 online applications for flying symbolically with the team. Photos by Oliver Rösler.