12 June 2016

Sport pilot and vintage motorbike fan actor Lucas Gregorowicz teamed up with watchmaker Zenith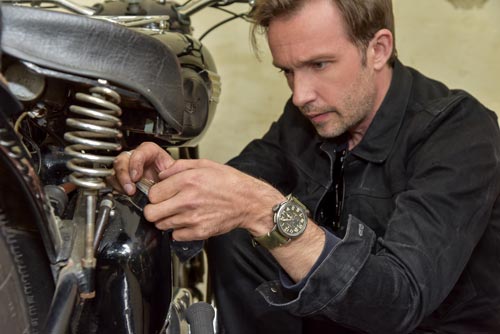 Recently, Swiss watchmaker Zenith presented Vienna-based actor Lucas Gregorowicz as new brand ambassador. Lucas Gregorowicz became in Austria very popular by playing the role of a womanizer and clever business man in the TV-series 'Vorstadtweiber'. Currently, the movie 'Schrotten!' (the title references the German slang imperative for scrapping metal) with the actor in the main role is in cinemas in Germany and Austria. Gregorowicz plays a nice guy who works in an insurance office and was born into a family which lives at a scrapyard and needs his help now for robbing a train.
In his private life, actor Lucas Gregorowicz (born 1976 in London, married with actress Adina Vetter) is a fan of old metal - especially when it's metal of vintage motorbikes and invests time and money into his collection of motorcycles. Alongside, he is sport pilot and since many years owner of the 'El Primero De Luca' by Zenith.
fig.: At the image, Lucas Gregorowicz wears the Zenith 'Pilot'. Photo: @ Robert Harson.