23 July 2016
Car maker Maserati and clothing, equipment brand La Martina introduce with new 'Polo Stories' video episode into the heritage of polo sport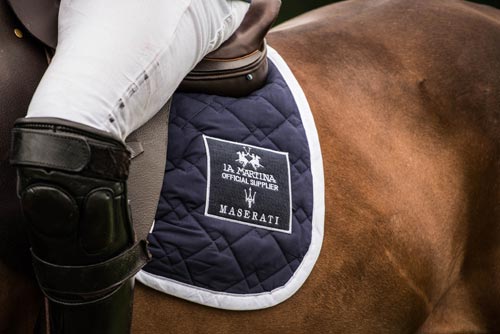 The first episode of the Maserati - La Martina 'Polo Stories' video series with polo star Ebe Sievwright was released in May; it concerned the game of polo such as the interaction between riders and horses (ponies). Recently the second episode (video embedded below) was published with the title 'Heritage'. This time, La Martina ambassador and professional polo player George Meyrick is the presenter. He speaks about the historical roots of the game, that the first European Polo Cup was established in Malta in 1828 or why polo is also known as the 'Game of Kings'. The video shows images of Prince William The Duke of Cambridge and Prince Harry who collected money for charities at the 'Royal Charity Polo Trophy' at Beaufort Polo Club on 18 June in Tetbury, England. Prince William played on the Maserati team. La Martina, the collaborative partner of the Maserati by La Martina clothing collection, was the official supplier of the Royal Charity Polo Trophy. For the game in UK, La Martina released the limited (300 pieces) edition polo top 'Anatomic Sport' with a Union Jack second button. At the 'Heritage' episode of the 'Polo Stories' video series, polo player George Meyrick walks also through the La Martina store in London and points out that the esthetics of polo haven't changed even when the technologies, materials of the equipment and clothing were modernized.
The UK match was the third of in sum six matches of this year's nine month Maserati Polo Tour. Currently, the Maserati Polo Tour is continued with the 'USPA Maserati Silver Cup' from 15 to 24 July at the Santa Barbara Polo & Racquet Club in California, USA. From 27 July to 11 August, Maserati will join the '45° Torneo Internacional de Polo' at the Santa Maria Polo Club in Sotogrande, Spain.
fig. above: La Martina Official Supplier of the Royal Charity Polo Trophy at Beaufort Polo Club on 18 June 2016 in Tetbury, England. (Photo by Chris Jackson/Getty Images for Maserati and La Martina). (C) 2016 Getty Images.