20 May 2016

Lancia, Fiat, Alfa Romeo at Mille Miglia 2016
On 19 May, the 34th edition of Mille Miglia started in Brescia; the route goes over Rimini to Rome and back over Parma to Brescia where the car race ends on Sunday the 22nd May. Enzo Ferrari stated once that this race is "the most beautiful travelling museum in the world". Fiat, Alfa Romeo and Lancia attend the road race with classic cars from the FCA (Fiat Chrysler Automobiles) Heritage collection and the latest models from the current production such as the Alfa Romeo Giulia.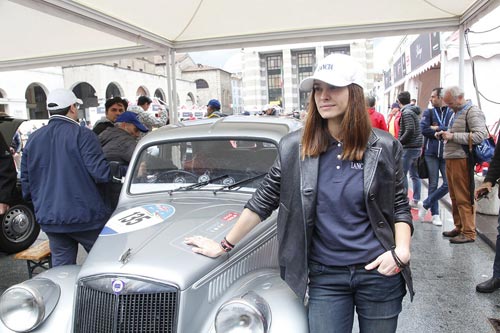 Lancia started with Lancia Ardea from 1939 (onboard actress Kasia Smutniak; image right) and two Fiat Spiders (508 Balilla Coppa d'Oro from 1934 - Twitter post below - and the 1100 TV Trasformabile, 1955). Alfa Romeo Historic Museum sent three classic vehicles: the 6C 1750 Gran Sport from 1930 (image below), the 1900 Sport Spider from 1954 and the 1900 Super Sprint from 1956. They are accompanied by the latest new cars currently produced: from the Alfa Romeo Giulia to the New Giulietta, the special Lancia Ypsilon Mya series (launched in mid-April) and the new Fiat 124 Spider.
fig. above: Polish in Italy living actress Kasia Smutniak and Lancia Ardea (from 1939) at the 2016 Mille Miglia. Kasia Smutniak has been the ambassador of the Ypsilon model since 2015. The saloon car Lancia Ardea won in its category the Mille Miglia race in 1947. Ardea was produced until 1953 and inspired the Ypsilon that is produced today. The classic Ardea was designed after inspiration by Adele Miglietti, the widow of Vincenzo Lancia. The car is lighter, smaller (reduced scale 9/10) and easier to manage than the Aprilia saloon car - with same aerodynamic features and the favor of reduced fuel consumption.
fig. right: Alfa Romeo 6C 1750 Gran Sport is a legendary car model in which Tazio Nuvolari and Giovanni Battista Guidotti won the Brescia-based race in 1930. The bodywork was created by Milan atelier Zagato.
The Twitter post from fiatontheweb shows the Fiat 508 Balilla Coppa d'Oro from 1934. Construction works such as used for the 508 Balilla were the forerunners of smaller, lighter vehicles. In the 1920s, Fiat has started already the design development which entered later the '500 project'.