21 November 2016
Fashionoffice mountain, early 2017 tip: challenging oldtimer rally at the Schladming-Dachstein region
Fashionoffice published recently mountain tips like early morning skiing or horse riding; last mentioned is even possible during winter months. Now, the third mountain tip will attract motorsport fans.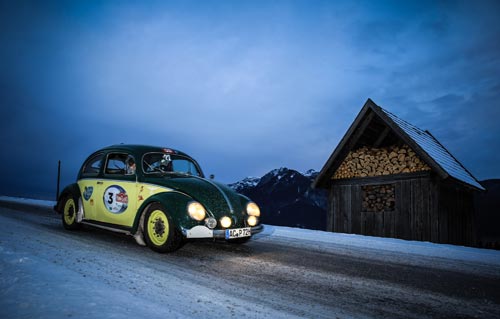 The oldtimer rally 'Planai-Classic' (it's the 21st) happens from 5 to 7 January 2017 at the region of the mountain group Dachstein and goes on snowy roads from Schladming up to the Planai and down to the horse racing track in Gröbming and to Planai, Schladimg again. During the three days, the participants of the rally have to master several driving test. Each of the three days is accompanied by an evening program. On 5 January, the drivers will come together at the Dachstein Gletscherrestaurant (Glacier Restaurant) on 2.700 meters; on 6 January, they will eat at Romantik Hotel Schloss Pichlarn; and on the last day, the winner celebration will happen at the tavern 'Hohenhaustenne' Schladming.
The cars aren't built later than 1972 and will race at 'Planai-Classic' with average 40km/h. The models of the oldtimers reach from popular automobile constructions like the VW Beetle (on view at this page) to design objects which were produced in small series only.
fig.: The image shows a VW Beetle (built 1954, driven by Hans Wilhelm Dercks und Ines Dercks (GER)) at this year's Planai-Classic on 7 January 2016 at Gröbming, region Schladming-Dachstein in Styria (Austria). Photo: (C) Planai-Classic / Martin Huber.


more motor>