27 May 2016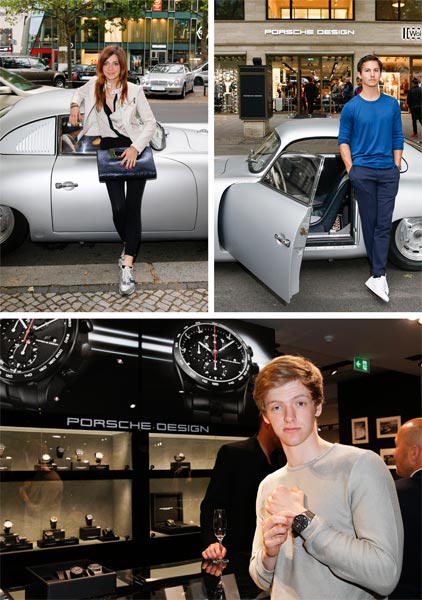 Porsche Design presented new watch edition with awarded German actors in Berlin
Porsche Design presented the new watch edition of the label's 'Timepieces' line together with award-winning talents at the brand's store at Kurfürstendamm in Berlin. The event on occasion of the new '1919 Datetimer Eternity Black Edition' was attended by young German stage and film stars such as Claudia Eisinger who received this year's actors' award 'Schauspielerpreis' in the category Best Actor in a Leading Role for her work in 'Mängelexemplar' (released recently). The watch designers (with base in the label's studio in Zell am See in Austria) were inspired by the iconic Porsche 356 from the 1950s which was parked on this day in front of the store at Kurfürstendamm. The men's timepieces combine the heritage of Porsche, elegance and sport. Other actors who were seen at the event are the 'Schauspielerpreis' ensemble winners of the TV-series 'Club der roten Bänder' Tim Oliver Schultz and Timur Bartels.
fig. clockwise: Images captured at the timepieces presentation of the '1919 Datetimer Eternity Black Edition' by Porsche Design on 25 May 2016 at Kurfürstendamm 48-49 in Berlin, Germany. Photos by Isa Foltin/Getty Images for Porsche Design. (C) 2016 Isa Foltin.
German actress Claudia Eisinger (in front of the Porsche 356 from the 50ies) wears a 'Voyager Motocross' jacket and 'Metric' clutch by Porsche Design Woman.
Actor Tim Oliver Schultz in crew neck sweater 'Sky' by Porsche Design.
Actor Timur Bartels with the '1919 Datetimer Eternity Watch' from the Porsche Design Timepieces collection.
The Facebook post shows further images from the event: