7 December 2017

Austrian bicycle brand 'My Esel' is the 'Overall Winner 2018' of the ISPO Brandnew awards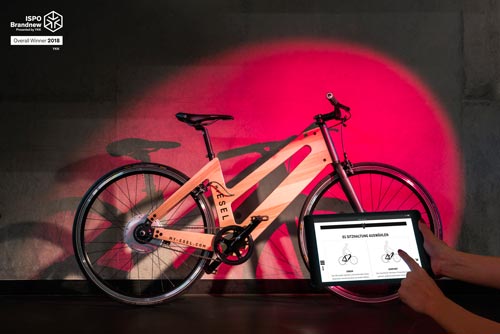 Yesterday, ISPO published the list of winners 2018 of the 'ISPO Brandnew' awards together with the announcement that all eight winners will be exhibited at the upcoming fair ISPO Munich, held from 28 until 31 January 2018.
Since 2000, the ISPO Brandnew awards are given to producers of innovative, creative goods of the sports industry. Overall Winner 2018 is the Austrian bicycle brand 'My Esel' (means as much as my donkey and references a beloved, very personal vehicle). The jury was convinced by the product which can be customized after body requirements individually via website my-esel.com. The seat position and sizes of the frame (made from Austrian wood) are calculated on the basis of orthopaedic research with numbers of body height, shoe size and lower leg length. The My Esel bike is currently available in natural wood, chic white or stylish black and with various specifications up to e-bike. The company delivers worldwide.
The full list of winners (hardware, accessories, apparel, fitness, wearables, social awareness) is published on ispo.com (English - German).


more motor>