18 January 2017
The esthetics of a retro-futuristic world applied to the new 'Ducati Diavel Diesel' motorbike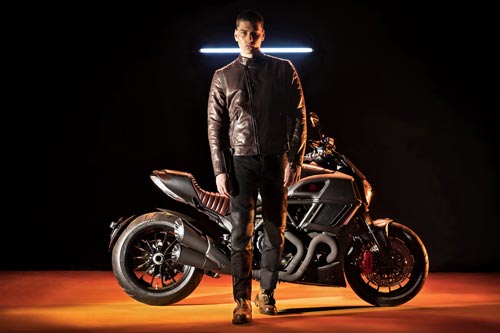 Two days after the ninja-like martial arts, motorcycling inspired Diesel Black Gold FW2017/18 collection was presented on the catwalk (video) at the Italian fashion capital Milan, Diesel and Ducati premiered the new bike 'Diavel' as a synergy of fashion and motor during the men's fashion week before the 'Ducati Diavel Diesel' will be shown at the upcoming Motor Bike Expo from 20 to 22 January 2017 in Verona (Italy). From April, the bike as well as the special DDD edition of jogg jeans, a leather jacket and two t-shirts will be available.
fig.: Campaign image of the 'Ducati Diavel Diesel' motorbike and special capsule collection referencing the heritage of Diesel and Ducati.
Symbolically 666 numbered units of the Diavel have been produced. The motorbike is the collaborative work of Andrea Rosso, Creative Director of Diesel Licenses, and the Ducati Design Center. The design is inspired by the esthetics of the imagination of post-apocalypse and a retro-futuristic world. Motto of the DDD is 'Never Look Back'. It appears as slogan on the bike as well as at the campaign like at the video on the DDD page where close ups of the archaic metal-leather design such as the tank cover with visible welding and rivets are published. The DDD is powered by the Ducati Testastretta 11° Dual Spark which is derived from the race winning Ducati Corse engines.
"It's an important bike that reflects the rock side of Diesel's DNA," explained Andrea Rosso. "The wording 'Never look back' engraved with the two logos encapsulates the significance of this collaboration: a timeless bike that catches the eye with so many unmistakable details, such as the brushed stainless steel with visible welding and rivets."
fig. below: A general view of DDD Ducati Diavel Diesel presentation during Milan Men's Fashion Week Fall/Winter 2017/18 on January 16, 2017 in Milan, Italy. Photo by Jacopo Raule/Getty Images for Diesel; (C) 2017 Getty Images.