19 January 2017
Collezione Automobili Lamborghini's special editions of shoes and clothing spread the 'Made in Italy' spirit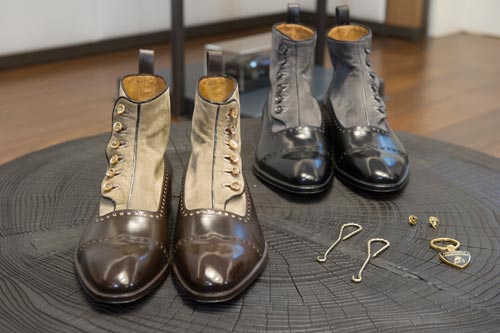 During Milan Fashion Week, the clothing, fragrance, lifestyle range of the famous luxury sports car Lamborghini, 'Collezione Automobili Lamborghini' presented men's wear pieces for Fall/Winter 2017/18 and special editions with two new collaboration partners, both are based in Bologna: outerwear for men and women (limited edition of thirty pieces for each) by Hettabretz which incorporates into the designs the esthetics of the brand's sports cars such as the car brand's typical orange for the linings; and footwear by designer Enzo Bonafè who founded his brand in the same year (1963) as Lamborghini started in Bologna. With the special editions, Lamborghini celebrates not only the 'Made in Italy' spirit which is about craftsmanship and the combination of design and technology, the car maker references also the automobile's origin: 'Made in Bologna'.
fig. right, above: View at the 'Collezione Automobili Lamborghini' FW17/18 special edition of button-up calfskin ankle boot in brown and black version by footwear designer Enzo Bonafè at the exhibition space at the Mandarin Oriental Milan during Men's Fashion Week on 16 January 2017. The event happened under the title 'Dynamize Your Style' and was held in partnership with L'Uomo Vogue (event video).
Below: Pieces of the Fall/Winter 2017/18 'Collezione Automobili Lamborghini' and items from collaborations like L - Automobili Lamborghini fragrances in partnership with Intertrade Group or carbon fibre luggage with TecknoMonster.