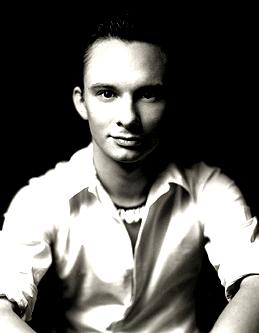 GERALD TOMEZ

his confashion.com>>>the movie
Gerald Tomez, born in Vienna, Austria in February 1975, began early in the arts, experimenting with classical guitar and jazz by the age of six. Early on, Gerald realized the intensity of his passion for creative expression and design.
After finishing his secondary education, he studied business at the Vienna University School of Business Administration. Soon after, Tomez decided to become involved in the World's financial markets and became a broker. He began in the American stock market and specialized as a futures and commodities trader. With schooling and business experience behind him, he moved on to pursue his earlier passions-music and fashion. Devoting all his energy to become a fashion designer, Gerald focused on his inspirations and dreams. His fascination with fabric and design, his joy of chance and his tremendous determination led him to find the perfect outlet to express himself Gerald didn't abandon his love for music but incorporated it into the entire picture. After hiring a patternmaker and researching the industry for the best production facilities in Austria, Gerald Tomez; presented his first collection at the Austrian International Fashion Days in April 1998. He did fashion shows in. Prague, participated in the Fashion Flash Tour through Austria and showed his Spring 1999 collection in December in Vienna. With the attention of international magazines, daily newspapers and television interviews, Tomez; began designing the wardrobes for theater and videos.
Along with his fashion creations, Tomez produces his own soundtracks, "Freedom Satellite", for his ready-to-wear collections on the Vienna Scientists Recordings label, a group from the Austrian electronic music scene. Gerald Tomez debuted in New York in April of 1999 with South Of Seventh and is now showing with 7 th On Sixth on September 12, 1999, establishing his presence in the international fashion arena.
Windmuehlgasse 32, Austria - 1060 Vienna
TEL. : 0043 1 96 10 680
FAX : 0033 1 96 10 681