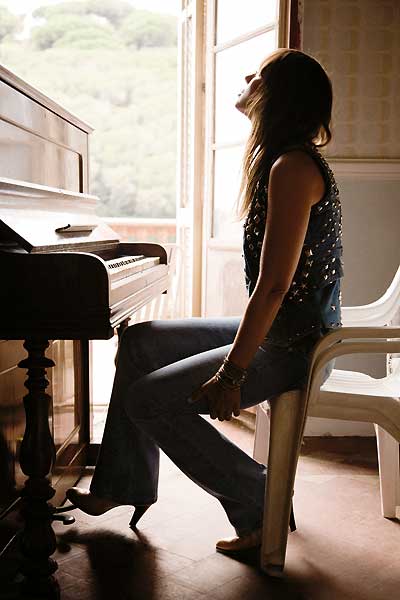 LEVI'S and CAT POWER
spring 2009


The Timelessness of Rock'n'Roll & Jeans
In January 2009 the American jeans label Levi's presented its new campaign with US singer/writer Cat Power (aka Chan Marshall) for selected European countries. The photographer is German born Katja Rahlwes. She worked together with the Londoner stylist Sarah Richardson to arrange the vintage 70ies look. The campaign is inspired by legendary musicians like Patti Smith, Suzi Quatro and Chrissie Hynde who have an authentic, unique style and the coolness of Rock'n'roll which is part of Levi's image and underlines the timelessness of jeans-fashion.
fig.: The campaign shows Cat Power - who is a Levi's Jeans fan - in a setting with a touch of the 70ies freedom-hippie style which is significant for the singer. She wears sun-bleached jeans in a casual-vintage look; photographed by Katja Rahlwes www.levi.com.
Stylist Sarah Richardson who has started her career as an assistant to stylist Venetia Scott, works for Dazed & Confused, Vogue US, Interview Numéro... as well as a fashion editor for i-D magazine. Sarah has collaborated with numerous photographers including Anton Corbijn, Rankin, Nick Knight, David Armstrong and Serge Leblon.
Why do you think Cat Power has become a style icon?
Stylist Sarah Richardson: When you blend an incredible talent like hers with classic rock 'n' roll cool, you have the perfect recipe for a look that many women would want to imitate. Like her music, her look is simple to understand, yet it conveys incredible individuality and strength and is therefore iconic.
What was your styling approach for the campaign?
Stylist Sarah Richardson: I researched the look of female rock musicians of the late 1970s, including Patti Smith, Chrissie Hynde and Suzi Quatro. Archival images of the style of these three women, who always wore Levi's, provided the foundation for the styling of the campaign and the canvas for Cat Power's own style.
fig.: Levi's collection for spring 2009 varies from Boot Cut, to Marlene Jeans over to Flared Leg. Highlight of the new collection is the Cat Power Studded Vest. It is available as a special edition in selected Levi's stores.
How would you reinterpret the 'boyfriend look' for next spring?
Stylist Sarah Richardson: Keep it cool and sexy, whether low slung and casual or hitched on the waist with your boyfriend's belt and a pair of amazing heels. On the waist with a belt and flats if you want to go retro. In any case, your jeans need to look like they were worn to perfection. I really believe that denim takes on a person's own style, so the way you wear your jeans will be a function of your own taste and habits. There are no true secrets nor pitfalls as long as you wear denim with confidence and therefore with style.
Video: 'Crying, Waiting, Hoping' by Cat Power during a Rolling Stone session; by youtube.com/Decom5. (By the way: the channel is managed by LittleMy, a last.fm user with an interesting music taste last.fm/user/LittleMy.)
Cat Power has started her career in 1995. The indie-musician collaborated with Dave Grohl, Yoko Ono, Faithless etc. She is well known for her minimalistic, very personal songs. In 2006 'Kaiser Karl' Lagerfeld has ennobled her with the words "J'adore Cat Power!". In 2007 Cat Power had a role in the movie 'My Blueberry Nights' directed by Wong Kar Wai with Jude Law, Natalie Portman and Norah Jones fashionoffice.org/film/2007/blueberrynights12-2007.htm.
In January 2008 she has released her eighth album 'Jukebox'. Cat Power is on tour: 21 February 2009 in Guadalajara (Mexico), 23 February 2009 Ciudad de México (Mexico City) ... Details, tracks on last.fm/music/Cat+Power.


more collections>>>