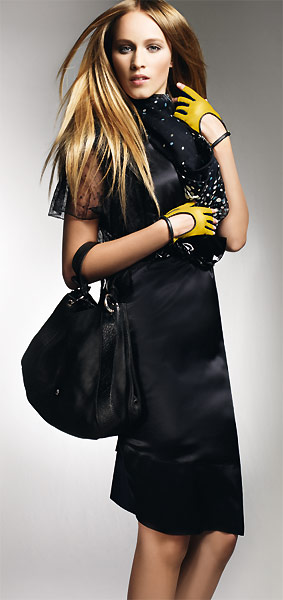 ROECKL
summer 2009


Gloves for city-biking
The German leather gloves and accessories brand Roeckl celebrates this year its 170th anniversary with a summer collection under the motto 'coquettish and chic'.
Very practical are the driving gloves for women; alongside to the elegant classical glove in stone color for driving with the car, two models even look good on city-bikes; the fingerless one (image on this page) is great for hot summer days on the bicycle or scooter.
fig.: Roeckl, summer 2009. She wears a foulard in transparent indigo silk, fingerless driving gloves in lime/navy, and the Bag 'Balloon Double Sac' in black.


Trend Looks
This summer Roeckl presents three trend looks: Beauty, Sphere, and Spa.
Beauty is the erotic, frivolous and 'très chic' line with long semi-transparent gloves, fine silk foulards in colorful apricot, blush rose, coral and red in femme fatale style.
At the Sphere line you will find the light and neutral colors grey, taupe, stone and cloud. The motto is 'chic-ing, not shocking' for the understatement-look.
Spa is the line with the most freshness in colors: white and lime come along with a palette of aquatones. The pieces are designed for the sportive style such as the gloves on this page.


About Roeckl
The glove brand Roeckl was founded 1839 in Munich, Germany. Today, the family owned company's product range includes knitted accessories and silk foulards. Recently, Annette Roeckl - managing director of the sixth generation - has launched the new scarf collection. The products are available in own shops in Germany, Austria, Poland, Switzerland, Kasachstan and in selected stores throughout Europe, to the USA, South America, Australia and China.
On the site of Roeckl, the company reports that in the past Sissi, the later Empress of Austria, and King Ludwig II wore gloves from Roeckl who was the supplier of the Royal Court of Bavaria. On the site you will find as an reminiscent of these times the 'History Selection' with historical gloves in a new edition www.roeckl.com.


more collections>>>


fig.: The fingerless gloves in lime/navy and the foulard with sparkling aquatones are from the fresh 'Spa' line.